Here we pick for you some of the cultural events which have come across our desks this month. If you have an event coming up then either email us editor@theedinburghreporter.co.uk or send us your story here.
ALIGHT – Visual Arts Scotland 26 Jan – 22 Feb 2019
The 2019 Annual Exhibition, ALIGHT is on show in the majestic upper galleries of the Royal Scottish Academy in Edinburgh. This puts contemporary applied arts and design disciplines, and their relationship with contemporary fine art, at the heart of the debate.
Visual Arts Scotland (VAS) explores the regions where art forms cross over, especially those between the fine and applied arts, showcasing work that demonstrates conceptual thinking and innovation, as well as outstanding design and craftsmanship in jewellery and silversmithing. This year they have created a platform for practitioners who explore and promote sustainability and ethical practices. Ute Decker, a renowned pioneer in the field of ethical practice, will be exhibiting as an invited artist.
VAS will again partner with Craft Scotland in the third of the planned series of media specific showcases inaugurated in 2016. Each year they will come together to shine a spotlight on craft and they will highlight a different craft discipline in each subsequent VAS annual exhibition.
They will exhibit quality craft in a venue fitting of its stature, and in context alongside works of fine art. This year they explore how three different makers use wood in very different ways, differing in scale from the architectural to the sculptural, to the precious. Craft Scotland Celebrates: Wood explores the diverse work of three makers Beth Legg, Naomi McIntosh and Charlotte Barker. This is presented within and alongside Hirta, a modular structure which acts as a focus for discussion around materiality, design and making.
The inches Carr Mentoring Award, is open to early to mid career makers, looking to advance their practice in conjunction with a mentor. In 2019 VAS will present work developed by Ffion Blench as a result of the inaugural award in 2018, along with a showcase of the short listed entries for the 2019 prize.
Having hand-picked a selection of the hottest emerging talents over the summer months, we have whittled a shortlist of eighteen artists down to just a handful of what we consider to be the rising stars in Scottish art for the Graduate Showcase 2019, generously supported once again by the Russel Trust. They are Daniel Craddock, Niklas Gustaffson, Jack Handscombe, Erin McQuarrie, Ailsa Morrant & Marcus Murison. (see images)
Lastly, the open submission offers the distinct opportunity for emerging and established contemporary artists, designers and craft makers, members and non-members to showcase new and unseen work in Scotland's flagship exhibiting venue. Diversity is as always at the heart of the curatorial vision.
At The Queen's Hall this month
5 Feb  Apollo & Daphne, The first Dunedin Consort concert of 2019 with other concerts throughout the year including the Matthew Passion.
7 Feb Jazz Scotland: Belgian Jazz
9 Feb Jimeoin, Brilliantly observed, ever-evolving and hilarious comedy from the Irish-Australian.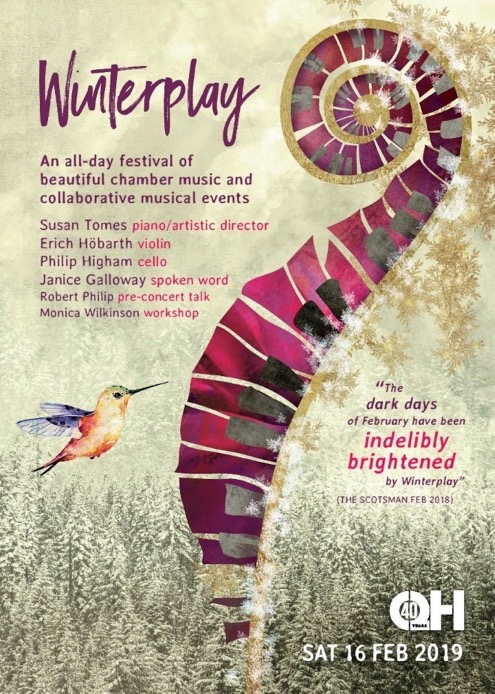 16 Feb Winterplay   An all-day festival of beautiful chamber music directed by Susan Tomes (piano) with Erich Höbarth (violin), Philip Higham (cello), Janice Galloway (spoken word), Robert Philip (talk) and Monica Wilkinson (children's workshop). Featuring Tchaikovsky, Beethoven, Suk and Schubert. Supported by Harriet's Trust.
23 Feb Dolly Alderton (Everything I Know About Love)  The award-winning journalist and podcast host launches the paperback copy of her bestselling book. 
At Capital Theatres
Les Misérables Festival Theatre to Sat 16 February
After nearly a decade since the last sell-out UK tour, Cameron Mackintosh's acclaimed Broadway production of Boublil and Schönberg's musical Les Misérables will play the Festival Theatre in 2019. This brilliant new staging has taken the world by storm and has been hailed "Les Mis for the 21st Century". With scenery inspired by the paintings of Victor Hugo, the magnificent score of Les Misérables includes the songs; I Dreamed a Dream, On My Own, Bring Him Home, One Day More, Master Of The House and many more.
Scottish Opera: Anthropocene King's Theatre Thu 31 January & Sat 2 February
The award-winning team behind 2016's five-star The Devil Inside returns with a gripping new work. This fourth collaboration between composer Stuart MacRae and librettist Louise Welsh promises a night of unrelenting dramatic tension and superb storytelling. Director Matthew Richardson once again teams up with designer Samal Blak to bring this work to the stage.
OPERA National Opera Studio King's Theatre Fri 1 February, 6pm
See the opera stars of the future! Every year, Britain's major opera companies host residencies with the National Opera Studio – the UK's leading training programme for young opera professionals. This February, their residency with Scottish Opera culminates with a performance featuring semi-staged scenes from well-loved operas including Carmen, Così fan tutte and Rodelinda. Accompanied by The Orchestra of Scottish Opera.
FAMILY Cat in the Hat King's Theatre Wed 6 to Sat 9 February
When the Cat in the Hat steps onto the mat, Sally and her brother are in for a rollercoaster ride of havoc and mayhem! Based on the much-loved book by Dr Seuss that has captivated generations of readers, The Cat in the Hat features feline frivolity aplenty, with his acrobatic accomplices Thing 1 and Thing 2. With riotous rhymes which have delighted children for over fifty years, and infectious humour and spectacular circus for the grown-ups, the wonderfully anarchic Cat in the Hat comes to Edinburgh. Directed by Suba Das with Design by Isla Shaw (The Gruffalo) and original songs from Composer Tasha Taylor Johnson (George's Marvellous Medicine), The Cat in the Hat will be a purrfect treat for all the family.
FAMILY The Singing Mermaid The Studio
Wed 6 to Sun 10 February
Wed & Thu 10.30am & 1pm, Fri 10.30am & 2.30pm; Sat & Sun 10.30am, 1pm & 3.30pm
One day, the singing mermaid is tempted away from all of her sea creature friends and her peaceful home at Silversands to join a travelling circus. The audiences love to hear her sing, but the poor mermaid was tricked! Instead of the swimming pool she was promised, she is kept in a small tank by the wicked circus master Sam Sly, and she soon longs to return to the freedom of the sea. Will she ever escape? And who will help her along the way? Through beautiful puppetry and performance, and with music by Barb Jungr (We're Going On A Bear Hunt), Little Angel Theatre collaborate once again with Royal & Derngate to bring Julia Donaldson and Lydia Monks' enormously popular story, The Singing Mermaid, to life.
MUSIC Barbara Dickson King's Theatre Sun 10 February, 7.30pm
Multi-million selling recording artist Barbara Dickson with her accomplished band returns to Edinburgh. Barbara will perform a wonderful range of material drawing on her folk roots as well as performing globally known hits such as The Caravan Song, Another Suitcase in Another Hall plus lots more.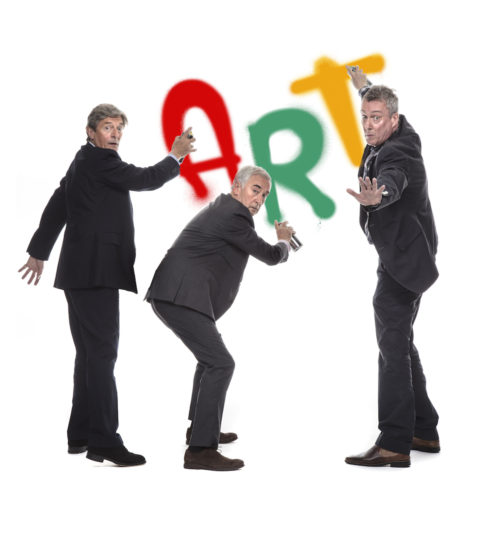 DRAMA – ART King's Theatre Mon 11 to Sat 16 February
When Serge spends an extortionate amount of money on an all-white modernist painting, his close friends Marc and Yvan are baffled. But does their violent reactions to this provocative canvas mirror more dangerous antagonisms towards each other? Yasmina Reza's dazzling study of friendship, prejudice and tolerance is a masterpiece. The all-star cast features BAFTA nominated Nigel Havers (Downton Abbey, Chariots of Fire), Olivier Award-winning Denis Lawson (Bleak House, New Tricks) and British Comedy Award-winning Stephen Tompkinson (The Split, Wild at Heart, Ballykissangel).
Drama The Electrifying Mr Johnston & Bite- Size The Studio Fri 15 February, 7.30pm
A new play by Robert Dawson Scott about one of Scotland's great unsung heroes, Tom Johnston, once described by Churchill as the 'King of Scotland', focusing on his struggles to bring "light to the glens." Through incredible feats of engineering and political manoeuvring, he sought to transform the lives of everyone in the north of Scotland by bringing hydroelectric power to the Highlands & Islands. A story of power-and the struggle for it. Reproduction of the Tom Johnston portrait by kind permission of Scottish Friendly Assurance. Bite-size an informal programme of script-in-hand play readings of new plays and works-in-progress. Readings, encounters, questions & answers, feedback and chat offer audiences the chance to be part of and enjoy the fun of the creative process.
TALKS True Fast Health with Dr Michael Mosley King's Theatre Sun 17 February, 7.30pm
Dr Michael Mosley has changed tens of thousands of lives with his award-winning programmes and international bestselling books. In this informative and entertaining live show, Michael Mosley, the man behind the iconic 5:2 Diet, will explode common health myths and offer fascinating insights into the workings of the human body. He will take you on the unconventional journey that he himself has travelled, from swallowing tape worm to uncovering revolutionary new ways to lose weight, get fit and reduce stress.
DRAMA The Lady Vanishes King's Theatre Mon 18 to Sat 25 February
A new stage adaptation of the much-loved Hitchcock thriller, starring husband and wife actors Maxwell Caulfield and Juliet Mills. Socialite Iris is travelling home to England on the train when an accident introduces her to the mild-mannered Miss Froy. After her travelling companion suddenly disappears, Iris is perplexed to find that all the other passengers deny ever having seen her. With the help of urbane musician Max she turns detective and together they become drawn into a complex web of European intrigue as they try to solve the mystery of why the lady vanished.
SCREENING National Theatre Screening: I'm Not Running Festival Theatre Tue 19 February, 7pm
I'm Not Running is an explosive new play by David Hare, recently described by The Washington Post as "the premiere political dramatist writing in English." Join us for this National Theatre screening.
DANC Medusa Festival Theatre Thu 21 February, 7.30pm
A reflection on the powerful feminine symbol of Medusa, the myth and its various connotations in our contemporary life, Jasmin Vardimon's new production examines the philosophical idea of 'reflection' and Medusa's aquatic symbolism in the environmental future of our seas.
MUSIC Paul Carrack Festival Theatre Fri 22 February, 7.30pm
Legendary Sheffield-born singer, songwriter and former front man of Ace, Squeeze and Mike & The Mechanics returns to Edinburgh with his band. With a back catalogue of hits to his name including "How Long", "Tempted" and "The Living Years", Paul's uniquely soulful voice is a must for his millions of fans around the world.
DANCE Balletboyz Festival Theatre Sat 23 February, 7.30pm
Applauded across the globe for their stunning live performances, films and TV appearances, BalletBoyz are back with two brand new works, both set to original scores by world-class composers. Marking a first for BalletBoyz, Them is the choreographic debut of the company dancers, under the direction of Artistic Directors Michael Nunn and William Trevitt, and set to a score by emerging composer Charlotte Harding. Us, from Tony Award-winner Christopher Wheeldon, takes its inspiration from his achingly beautiful and critically acclaimed duet which featured in the company's last show, Fourteen Days. With an extended score by cult singer/ songwriter, Keaton Henson, this new work explores the possibilities of before, during and after.
MUSICAL Ghost Festival Theatre Tue 26 February to Sat 2 March
Walking back to their apartment late one night a tragic encounter sees Sam murdered and his beloved girlfriend Molly alone, in despair and utterly lost. But with the help of a phony storefront psychic Sam, trapped between this world and the next, tries to communicate with Molly in the hope of saving her from grave danger… The movie 'Ghost' has proven to be one of cinema's biggest all-time hits. Starring the late Patrick Swayze, Demi Moore and Whoopi Goldberg it was the highest grossing film of 1990 and won an Oscar for screenwriter Bruce Joel Rubin who adapted his screenplay for this musical, featuring The Righteous Brothers' Unchained Melody alongside many more terrific songs co-written by Eurythmics' Dave Stewart.
VARIETY – Allan Stewart's Big Big Variety Show
King's Theatre Tue 26 Feb to Sat 2 March
Allan's back with another big, big variety show, starring panto pal Grant Stott, magician Mandy Muden, fresh from Britain's Got Talent, funny-man musician Kev Orkian with all new jokes and songs and the rocking Soul Nation Choir, all backed by the full Andy Pickering Orchestra.
At the National Museum of Scotland
The Museum is opening three new galleries this month so watch out for that news this week
New to the National Collection until 24 Feb 2019 Exhibition Gallery 4, Level 1 Free
National Museums Scotland holds a large and diverse collection built over more than 200 years. See new acquisitions from across the museum's collections, from the skull of a killer whale to cutting-edge ceramic design and beautiful 19th and 20th century Japanese ceramics.
Embroidered Stories: Scottish Samplers
until 1 Apr 2019 Exhibition Gallery 2, Level 3 Free
Embroidered Stories: Scottish Samplers showcases an extraordinary collection of Scottish needlework from the 18th and 19th centuries. The 70 samplers in the exhibition are on loan from American collector Leslie B Durst. Made by girls and occasionally boys as part of their education, samplers are small pieces of needlework containing a wealth of information about education, family, religion and contemporary events.
Visit nms.ac.uk/samplers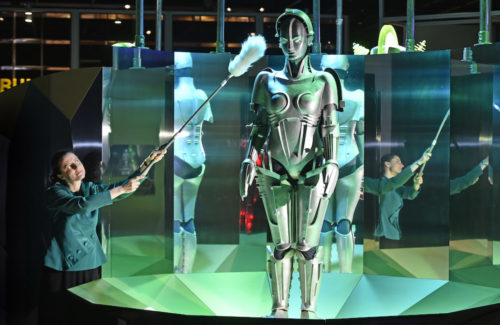 Robots until Sun 5 May 2019 Exhibition Gallery 1, Level 3
Members: Free, Adult: £10, Concession: £8, Child (Under 16): free, National Art Pass holders: 50% discount
From early mechanised human forms to today's cutting-edge technology, this major exhibition reveals our 500-year quest to make machines human. Featuring more than 100 objects – from automatons to science fiction film stars and the creations of modern research labs – this is your chance to see the most significant collection of humanoid robots ever assembled.
February Half Term
Sat 9 Feb–Sun 17 Feb 2019
11:00-16:00
Free, drop-in
Join us for a week of activities inspired by our new East Asia and Ancient Egypt galleries and our Robots exhibition.
At the National Museum of Flight
East Fortune Airfield, East Lothian, EH39 5LF
Reach for the Skies
Sat 9 Feb–Sun 17 Feb 2019 12:00-16:00
Free with museum admission
Explore the site and take part in a range of family activities during half term. This February break the theme will be Pioneers. We will be looking at the people from history who reached for the skies. From object handling to craft, there is so much to explore and discover.
Visit nms.ac.uk/flight
At the Scottish National Gallery of Modern Art 75 Belford Road, EH4 3DR until 28 April 2019
The fourth instalment of the SNGMA's NOW highlights the playful, thought-provoking work of Monster Chetwynd (b.1973), Henry Coombs (b. 1977), Moyna Flannigan (b. 1963), Betye Saar (b.1926) and Wael Shawky (b.1971).
Varying in medium, style and approach, the work of each of these artists is connected by a shared desire to challenge convention and invite audiences to think differently about the world around them.
Edinburgh-based Moyna Flannigan's series of new collages and paintings, shown here for the first time, marks a significant transition in her approach to making art. The series, called Tear, continues to develop the artist's interest in the history of art and painting, as well as the recurring power of the figure. In Tear, Flannigan breaks down each work's elements to make a new order out of the subsequent components – interrogating accepted ideas about seriality, repetition and beauty.
NOW
Monster Chetwynd
Henry Coombes
Moyna Flannigan
Betye Saar
Wael Shawky
0131 624 6200 | nationalgalleries.org
Admission FREE
#NOWInspires
At the Botanics – The Snowdrop Festival The Edinburgh Garden has a fascinating collection of specialist snowdrops. Look out for them throughout the Garden or ask the visitor welcome team for specific locations.
Join a Guided Walk and see snowdrops and other early-flowering plants that herald the onset of spring. Walks will be held each Friday, Saturday and Sunday from 15 February to 10 March. The cost is £6. Meet at the John Hope Gateway at 11am.
The Scottish Snowdrop Festival 2019, organised by Discover Scottish Gardens, runs from 25 January to 11 March.
The RSNO perform several times during February at the Usher Hall
SØNDERGÅRD CONDUCTS BRUCKNER FOUR (Sir Alexander Gibson Memorial Concert)
Fri 1 Feb 2019: 7.30pm Usher Hall
Mahler Adagio from Symphony No10
Bruckner Symphony No4 Romantic
Thomas Søndergård Conductor
SØNDERGÅRD AND BENEDETTI
Fri 8 Feb 2019: 7.30pm Usher Hall, Edinburgh
Thomas Adès Dances from Powder Her Face
Gershwin (arr Bennett) A Symphonic Picture of Porgy and Bess
Wynton Marsalis Concerto in D (for Violin and Orchestra) Scottish premiere
Thomas Søndergård Conductor
Nicola Benedetti Violin
CHAN CONDUCTS ROMEO AND JULIET (Recommended by Classic FM)
Fri 15 Feb 2019: 7.30pm Usher Hall, Edinburgh
Tchaikovsky Romeo and Juliet Fantasy Overture
Rachmaninov Piano Concerto No2
Prokofiev Selected movements from Romeo and Juliet Suites 1 & 2
Elim Chan Conductor
Lukáš Vondráček Piano
[INSIDE]OUT SCHUMANN
Wed 20 Feb 2019: 7.30pm
Sir Roger Norrington Conductor
Tom Redmond Presenter
NORRINGTON CONDUCTS SCHUMANN
Fri 22 Feb 2019: 7.30pm Usher Hall, Edinburgh
Schumann Symphony No4
Mozart Violin Concerto No4 K218
Schumann Symphony No3 Rhenish
Sir Roger Norrington Conductor
Francesca Dego Violin
DVOŘÁK'S NEW WORLD SYMPHONY (Recommended by Classic FM)

Fri 1 Mar 2019: 7.30pm Usher Hall, Edinburgh
Mathias Requiescat
Brahms Violin Concerto
Dvořák Symphony No9 From the New World
Gilbert Varga Conductor
Kristóf Baráti Violin
At The Usher Hall
S.P. Balasubrahmanyam live in concert 3.00pm 3 February 2019.The Usher Hall. Join the Maestro, Dr S P Balasubrahmanyam, for a magical evening of music along with the renowned Lakshman Sruthi Orchestra. Coming to Edinburgh for the first time, it is an opportunity of a life time to savour the incredible and delightful vocal range of the Living Legend.
Luath Press events in February
Tuesday 12 February 2018
Launch: We Do! How to Create a Meaningful Wedding Ceremony in Your Own Words by Tim Maguire
Contini George Street, 103 George Street, Edinburgh EH2 3ES
6-7pm
18 February 2018
Paolozzi at Large in Edinburgh – illustrated talk
Edinburgh Central Library, George IV Bridge, Edinburgh
6.30-7.30pm
Free admission. Tickets via Eventbrite.
Audacious Women at City Art Centre 23 Feb 2019 10.30 to 12.30
This workshop is for women who'd like to be more involved in politics but aren't sure where to start.
Maybe you are a campaigner but don't know how your skills translate into formal politics? Maybe you want to contribute to your local community but don't know if becoming a Councillor is for you? Maybe you want to influence policies at Holyrood or Westminster but don't know how to begin? Maybe you just want to know how people choose a party…
Come along to connect with other women as we explore why women get into politics, what routes you can take and how to commit to your first steps. For women with little formal knowledge of politics but a desire to make a difference. www.audaciouswomen.scot