Jenny Sturgeon Trio 6 February 2019
Singer/songwriter Jenny Sturgeon comes from the north-east of Scotland. " … a significant new talent, combining her interest in traditional folk song, with fresh, new compositions" (Bright Young Folk ). Jenny's inspiration comes from folklore, historical events and observations of society and, being a graduate biologist (Edinburgh University), nature creeps into all her work. R2 Magazine called her 2016 debut album, From The Skein, "one of the best debut albums you'll ever hear".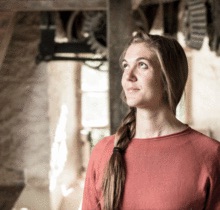 Jenny was recently commissioned by the National Trust for Scotland to compose new songs and tunes inspired by St Kilda, to mark the archipelago's 30th anniversary as a World Heritage Site. RnR Magazine described the resulting work, The Wren and the Salt Air, as a genuinely inspiring work. With Jenny tonight will be multi- instrumentalist Jonny Hardie (Old Blind Dogs) and world-renowned fiddle player, Charlie McKerron (Capercaillie, Session A9).
Tickets £5-10 from the EFC online Box Office here or on the door. The Pleasance Cabaret Bar, 60 The Pleasance, EH8 9TJ.
Tony McManus and Julia Toaspern 13 February 2019
Hailing from Scotland but now living in Canada, Tony has come to be recognised throughout the world as one of the leading guitarists in Celtic Music. While Tony is known as a soloist, his frequent collaborations with diverse musicians have always been a significant part of his work. Julia Toaspern is a multi-talented musician from Berlin who combines classical training on violin and voice with an interest in jazz, baroque and traditional music. She has released two albums of original songs and has performed both as a classical musician and singer/songwriter on both sides of the Atlantic. On top of all this her skills as a guitarist are prodigious and make and exciting fit with Tony's work.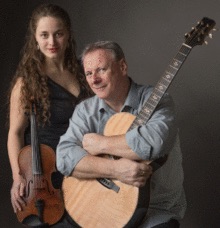 Their twin guitar treatment of traditional music is unique and each supports the other in exploring the harmonic possibilities of these old, and not so old, tunes. Each of the pair both flatpicks and fingerpicks at the highest level but always at the service of the tune rather than a display of technique. Her violin can effortlessly morph into a fiddle as she weaves from Italian madrigal to Scottish reel.
Julia's songs go to the heart of love and loss, hope and survival, and are inflected with musical input from a wide and eclectic experience of musical life. Together they will perform powerful interwoven guitar duets, sing traditional, classical and self-penned songs, a treat you to some soaring fiddle sets – everything always delivered with passion and commitment.
Tickets £5-12 online here or on the door The Pleasance Cabaret Bar, 60 The Pleasance, EH8 9TJ.
The Tannahill Weavers
The Tannies make a very welcome return to EFC in this their 51st year! (EFC's not far behind them either). The band is one of Scotland's premier traditional bands with a diverse repertoire spanning the centuries with punchie instrumentals, topical songs, and original ballads and lullabies. Their music demonstrates to old and young alike a rich celtic musical heritage.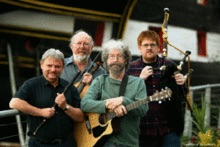 The band has received many international accolades over the years for their exuberant performances and outstanding recordings, efforts that seemingly can't get better … yet continue to do just that. They have a unique combination of traditional melodies, driving rhythmic accompaniment and rich vocals. The Tannies have been international trailblazers for Scottish music winning them fans from beyond the folk and celtic music scenes. They were inducted into the Scottish Traditional Music Hall of Fame in 2011.
Tickets £5-12 online here or on the door. The Pleasance Cabaret Bar, 60 The Pleasance, EH8 9TJ.
Tom McConville and Tony Wilson 27 February 2019
With over 80 years of combined musical, storytelling, schools and theatrical experience Tom and Tony always give an enjoyable and memorable performance. Tom and Tony used to play alongside each other as a duo in the mid-1970's and continued to perform in a variety of bands and groups until 1980. It wasn't until a chance meeting at Whitby Festival in 2009 that the idea of playing and presenting finally gelled.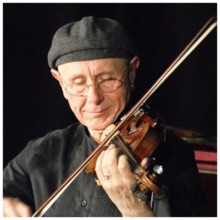 Tom, who has played at EFC many times since the mid-1970's, is a winner of the coveted BBC Radio 2 Folk Musician of the year, and has played, toured and recorded with some of the most prestigious bands on the folk scene, as well as being a well-known and much-loved solo act in his own right. Tony, from South Shields, is a musician and storyteller with over 20 years of storytelling tours in the UK and annual tours in South America and Europe, plus work in China and Korea.
Tickets £5-10 online here or on the door.The Pleasance Cabaret Bar, 60 The Pleasance, EH8 9TJ.