The teams were greeted by a pleasant day, with bright blue skies and a gentle breeze. Falkirk's 'Sunnyside' ground was living up to its name – unlike in 1746, when it was torrential wind and rain and neither combatant was able to retain any structure in attack or defence (in contrast to Saturday)! Falkirk have been a bit of a Stew Mel bogey team of late, however as the game started, there was certainly an air of expectation as to how things were going to pan out this time.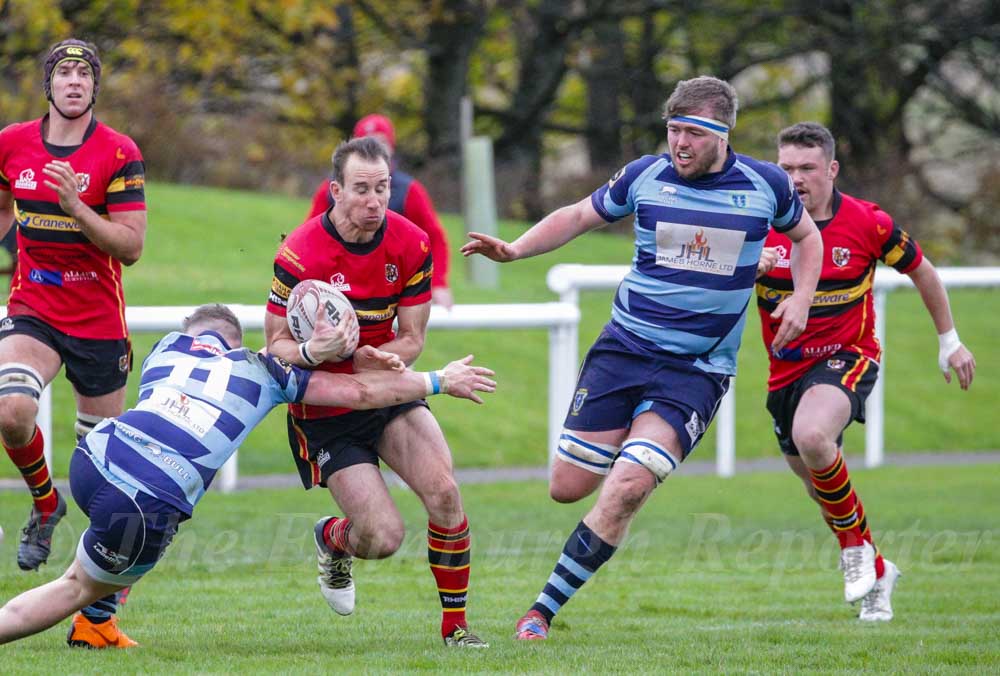 Falkirk started proceedings, but Stew Mel failed to secure their ball, the knock-on leading to the first scrum of the afternoon. Falkirk then moved the ball wide with good hands and a clever grubber kick through; Stew Mel were then penalised for offside, and, with only 3 minutes played, Falkirk had opened the scoring.
At the restart, there was another knock-on and scrum and Falkirk cleared their lines – but the ensuing lineout gave Stew Mel the opportunity to progress into Falkirk's 22. After a bit of football, the visitors finally managed to play some rugby, giving Dave Allan the chance to open the scoring. 10 minutes played, Falkirk 3 Stew Mel 5.
The ball was taken clearly at the restart this time, giving a solid platform for Fraser Strachan to consider his options and gain some territory with a boot down the park and another scrum just over the half way line.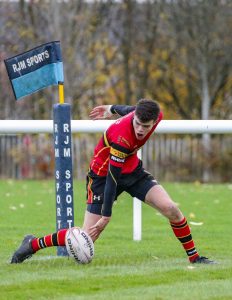 Falkirk managed to get their hands on the ball once more and were running everything, particularly down the right side where they clearly had pace in the form of their number 14, Lawson. Their decision to kick through rather than keep the ball in hand gave possession back to Stew Mel, however, allowing time to regroup.
The game at this stage was probably equal in terms of possession, although Falkirk were gradually being pushed back into their 22 before they managed to break out again, working down the right hand side. Their winger was through once again for what looked like a certain try, but this was thankfully prevented by a cover tackle from the Stew Mel number 14. The ensuing lineout was good, as was the resulting drive down field, but an unfortunate interception on the blind side gave Falkirk an opportunistic try. 20 minutes played, Falkirk 8 Stew Mel 5.
More Stew Mel pressure followed, and, again, Falkirk found themselves on the back foot within their own 22 as we started to turn the screw. Pressure eventually led to points as Matthew Watson crossed over and Michael Miller added the extras. 25 minutes played, Falkirk 8 Stew Mel 12.
Another untidy restart gave Falkirk the upper hand as a penalty came their way, followed by a strong attacking spell where they were clearly over the line but the attentions of Sean and Fraser forced a 'held up' decision. It wasn't, however, long before they attacked again, successfully this time. 30 minutes gone, Falkirk 15 Stew Mel 12.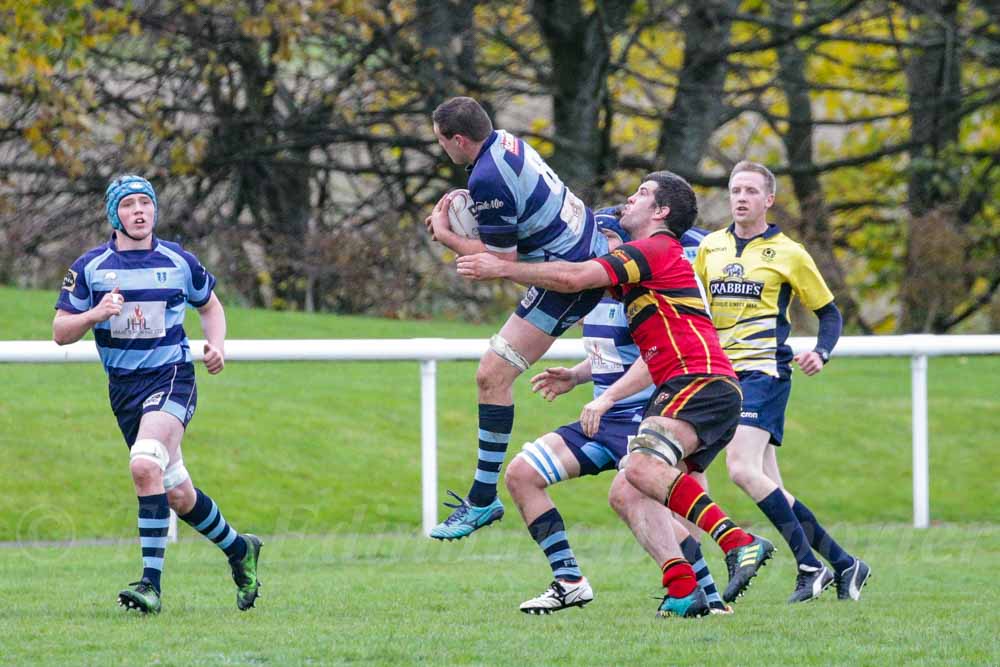 Play resumed once again, and this time it was Falkirk's turn to put pressure on Stew Mel within their own 22. The resultant penalty giving Falkirk 3 points, increasing their lead to 18-12. A period of play then followed which, while not pretty, at least saw the visitors, by and large, retaining possession.
A concerted effort on the blind side was relentless, and, eventually, paid dividends as Ruaridh Mitchell stormed over, bringing the half time score to 18-17.
The second half began with no wind and no low sun, almost perfect conditions. A strong start was followed by good phases and it wasn't long before Ruaridh Mitchell again powered his way over. With 45 minutes played it was Falkirk 18 Stew Mel 22.
The forwards were certainly starting to work extremely efficiently as a unit, making significant progress and creating space for the backs. A penalty soon came and Michael Miller slotted it home, making the score 18-25 in Stew Mel's favour with around 50 minutes played.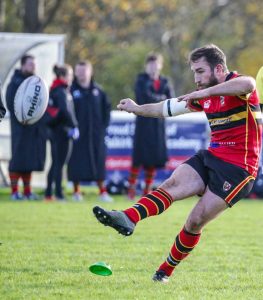 A long kick at the restart was taken well by Dave Allan, who drove forward to give Stew Mel a solid platform; some clever tactical kicking then put them into a good field position and they piled more pressure on the opposition. A quick tap and go, some great hands between the forwards and backs and quick ball wide found Stew Mel's number 14 who touched down. 55 minutes played, Falkirk 18 Stew Mel 30.
The Edinburgh side again secured the ball at the restart and some more impressive forward play put them well into Falkirk's half as their pack continued to show dominance. Further good interplay between forwards and backs ended with Momo driving over for another try. After 60 minutes it was Falkirk 18 Stew Mel 35.
An unfortunate mistake at the restart by Stew Mel gave Falkirk a small bit of hope but it wasn't long before they were back in the driving seat after a short lineout at around the halfway line. More good hands between both forwards and backs ended with Matt getting over, the conversion by Michael Miller being successful. That made it Falkirk 18 Stew Mel 42 with 70 minutes played, with the intensity and tempo of their play really starting to tell.
At this point a few substitutes came on in the back row, front row and at scrum half, giving a well-deserved rest to those who had put in an awesome shift. Fresh legs are always welcome – unlike the yellow card that Falkirk now received. As the game reached its conclusion, Falkirk, to their credit, were still fighting, eventually enjoying a spell where their pack got the upper hand and managed to drive over. It wasn't long before the visiting team restored their points differential, though, courtesy of another try by Matthew and a superb conversion by Happy. 75 minutes gone, Falkirk 25 Stew Mel 49.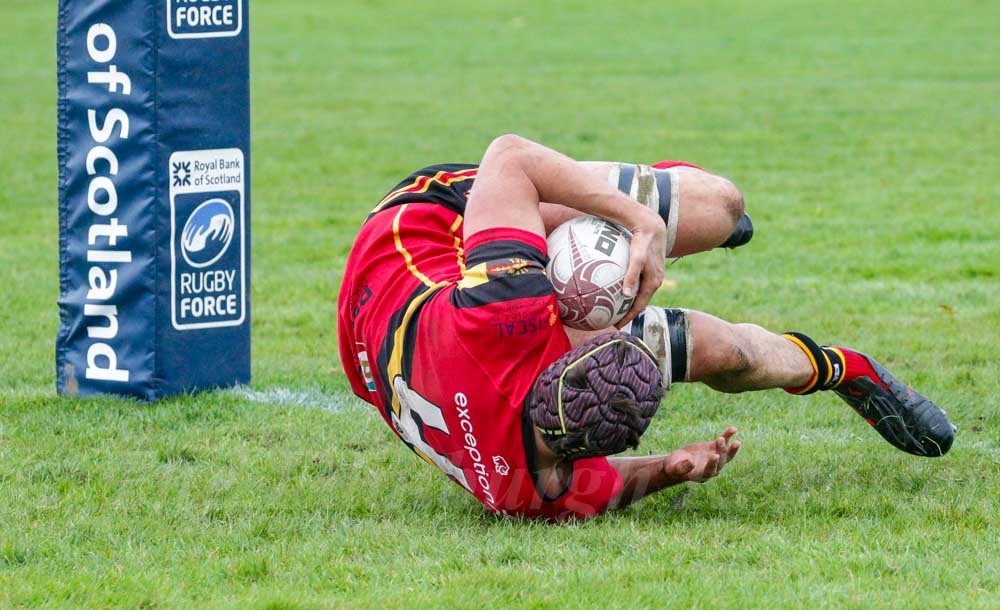 Another try almost came Stew Mel's way in the dying moments, but, as the final whistle blew, they had to be satisfied with the 8 that that they did get – along with the bonus point, of course. Final score Falkirk 25 Stew Mel 49.
With the halfway point in the league now reached, Stew Mel are hopeful of maintaining their momentum and regaining Tennent's National 2 status next season
Match report courtesy of Kevin Murchie (Stewarts' Melville)
All images © Jackie MacKenzie