A new work for violin and string quartet and which was inspired by Muriel Spark's poetry has been written by award winning composer and performer Jessica Danz.
The work will be premiered at The Scottish Poetry Library on Wednesday 14 November 2018 at 7.00pm.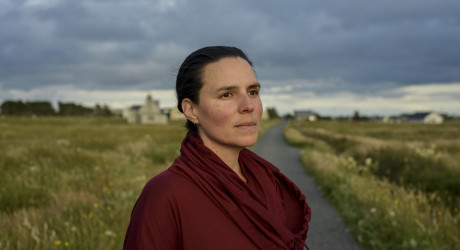 The composer herself will play solo violin with the Brodick Quartet and ensemble of young string players all of them from Scotland.
Jessica Danz said: "I've always been powerfully drawn to the relationship between literature and music, and my earliest compositions were settings of poems.
"Through creating scores for theatre and dance I've developed a strong interest in the art of storytelling. I've selected nine of Spark's poems to respond to, exploring their characters and voices, and their individual structures and rhythms. 
"The breadth and variety in Muriel Spark's poetry offers many fascinating possibilities for a composer.  Every poem has suggested a unique musical approach, and inspired different textures and forms – the nine movements include a song without words, a theme and variations based on the fragment of an ancient Gaelic lament, and a mad, melodramatic waltz."
The project is supported by Creative Scotland's Muriel Spark 100 fund.