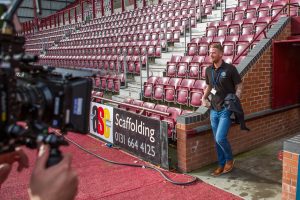 A Royal Scots veteran received a 'big surprise' recently when he was the subject of the National Lottery's 'Big Surprise', an innovation which honours people who make a real difference to people's lives with the help of National Lottery funding.
Steven Williams, Operations Manager at Lothian Veterans Centre, was filmed at Tynecastle Park, home, of course, to Steven's beloved Heart of Midlothian Football Club.
The 'Big Surprise' is a 90-second weekly slot during the ad break of Saturday night primetime ITV shows – meaning Steven, 36 from Edinburgh, is set to get national recognition with around 5 million people expected to tune in across STV and the ITV network.
Lothians Veterans Centre in Dalkeith was founded in 2009 to support ex-service personnel and their families from Edinburgh and the Lothians. The centre offers support and advice on the likes of health and wellbeing, various training opportunities to support future employment and social companionship.
Steven, who enlisted in The Royal Scots in 2003, was sent on two tours of Iraq and volunteered for a tour of Afghanistan in 2008. While training in Kenya, he was injured during a training incident and lost his right eye which resulted in his medical discharge from the army in December 2011.
Upon returning to the UK, Hearts fan Steven experienced the transition back into civilian life. He ran the Edinburgh Marathon in May 2012 for the Scottish War Blinded and spent time volunteering at Lothians Veterans Centre. In 2014, Steven joined the centre as a full-time member of the team and now works as operations manager.
Arriving for what he believed to be a meeting about Lothians Veterans Centre and its association with Hearts Football Club, Steven was invited on a quick stadium tour only to walk out of the tunnel to be greeted by Hearts team captain Christophe Berra, Hearts legend and club ambassador Gary Locke, a camera crew and rapturous applause from army veterans, volunteers, family and friends.
His supporters then turned around to show their Hearts tops with 'Steven' printed on the back, and he stood in disbelief at being in front of not only his football heroes but the veterans he has devoted his life to helping. The National Lottery were on location to film the unfolding surprise.
Steven said, "This isn't a job for me, it's something I love doing. After being medically discharged from the army I found adjusting difficult, I was referred to the Lothians Veterans Centre and started volunteering at social events. Four years later, I'm still here as operations manager. Small charities like ours make a massive difference to individuals and their families. I'm so pleased that Lothians Veterans Centre is getting the recognition it deserves.
"It's means a lot to me that Gary Locke, Christophe Berra and all of the guys from the Centre have given up their time to come out here and be part of this. I'm so grateful and overwhelmed by the full thing and can't thank the National Lottery enough for today and the support they've given Lothians Veterans Centre."
Bruce Smith, chief executive of Lothians Veterans Centre, said: "Steven is the epitome of going above and beyond the call of duty. He has a big heart and cares so much about his comrades who can sometimes face challenges coming back into civilian life. Steven has become the face of Lothians Veterans Centre and devotes his time and energy into supporting the veterans."