NEW JOINT MANAGER FOR MANNA HOUSE BAKERY ON EASTER ROAD
Jessie White joins "The Tasty Team" 
Celebrating her promotion to the position of Manager at The Manna House Artisan Bakery in Easter Road.
Originally from Widnes near Liverpool, Jessie has been working at The Manna House for the past nine months, having moved to Scotland three years ago. "I came for Hogmanay, loved it so much and never went home!" she said.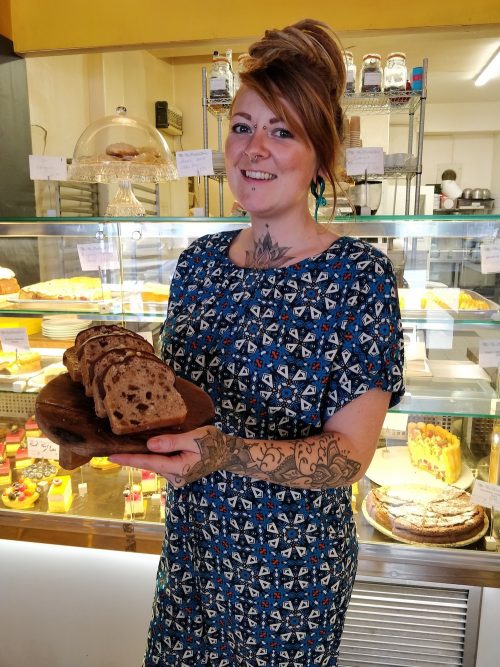 Before joining Manna House, which is known for its superb French patisserie, delicious salads, soups and homemade breads, Jessie worked as a waitress in Edinburgh, but welcomed the opportunity to join Manna House which is just five minutes from where she lives.
A keen cook, Jessie enjoys swapping recipes and ideas with her boyfriend Damian, who is the pastry chef at Manna House. The two worked together at the same restaurant in the city before coming to Manna House, but didn't become a couple until they had worked at Manna House for several months.
"Some couples may not like working in the same place but we like it," said Jessie, "It works out well for us as we're not on top of one another all day, we're busy with different jobs at different times of the day so there's no tension," she said.
"We do enjoy talking about food though, and thinking up new and interesting recipes for cakes and pastries," she said. "I am vegan, but I love cake, so I am always looking for new flavours and varieties of cake suitable for vegans. My favourite at the moment is our chocolate and orange cake – it is incredible!"
"I also love all our fresh salads, they change daily, so it's great to sample them and to  give my opinion and suggestions. I think we do a very good range of vegan and vegetarian products, but really have something for everyone," said Jessie, who shares the Management role with Sam Yusufzal.
She also credits the Manna House customers for keeping her role fresh, "They all have very different and varied backgrounds," she said." No two days are ever the same and we have many regulars whom I enjoy chatting with every day, tempting them with new products!"
Manna House Bakery is at 22-24 Easter Road, Edinburgh.