Halloween Party for All Ages to raise funds for CHAS
Capital Sci-Fi Con is planning a Halloween Party they say you will not want to miss.
The organisers behind Edinburgh's not-for-profit pop culture, film and TV convention has created two events for all ages.
There will be both a children's and an adults' Halloween party with all profits being donated to Children's Hospice Across Scotland – better known as CHAS.
The event will take place at The Edinburgh Corn Exchange on 28 October in the Halloween themed Baron Suite. The children's party will run from 1- 2:30pm, and the adult party is from 7:30pm till 1am.
There will be a DJ, Halloween-themed games, Capital Sci-Fi Con costumed characters, a costume competition for the competitive spirit, themed drinks for the adults, magic show for the young-ones, and even a Nerf Shooting Range to prepare you for the Zombie Apocalypse. (no we don't know what that is either……)
All profits raised from the event will go directly to CHAS, which cares for babies, children and young people with life-shortening conditions.
CHAS cares for families via its two hospices, Rachel House in Kinross and Robin House in Balloch and via its CHAS at Home service, which reaches families living across the whole of Scotland to deliver palliative and respite care. CHAS at Home and CHAS' Diana Children's Nurses work in local communities, hospitals and with health boards and organisations to reach every family that needs CHAS.
Laura Campbell, CHAS Senior Community Fundraiser said: "Three children die every week in Scotland of a life-shortening condition, and the sad truth is that right now, we're only reaching one of those families. The funds and awareness raised by our extraordinary supporters, like the Capital Sci-Fi Con team, help us on our mission to reach every single family who needs us. We rely on the generosity of the general public to fund our services and we're encouraging the local community to join in the spooky fun on 28 October and support CHAS."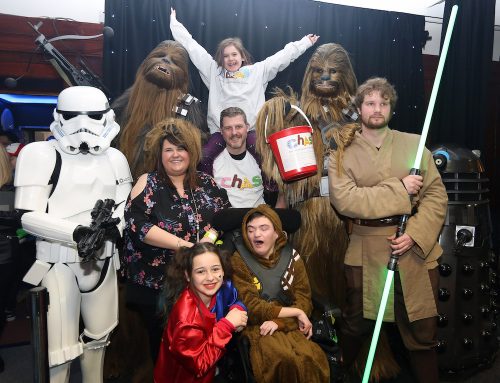 To mark the event, guests will have the opportunity to take their photo with some of the Capital Sci-Fi Con characters, as well as on the "Wizard's Broom." Digital photos will be offered on a donation basis and professional printed photos will be offered at a cost of £5 for each photo shoot.
Admission for the Children's Party is £5 for adults and £6 for children. Tickets for the adult party are £8 and you must be 18 or older to buy them. Tickets will be emailed and are non-refundable and non-transferable. Please bring print out of tickets to stop any software issues or hold ups.
Capital Sci-Fi Con is Edinburgh's family-friendly not-for-profit sci-fi and pop culture convention. Taking place from 15-17 February at the Corn Exchange, the event is now in its fourth year and bigger than ever with an extra date added to the convention. All profits raised from the event will go directly to CHAS, which cares for babies, children and young people with life-shortening conditions. 2018's Capital Sci-Fi Con attracted 8,600 fans and raised more than £74,000 for CHAS.
To find out more about Capital Sci-Fi Con's Halloween Party and buy tickets, please visit http://www.capitalscificon.co.uk Follow them on Facebook, Twitter and Instagram @Capitalscificon.