Stew Mel come from behind for dominant victory.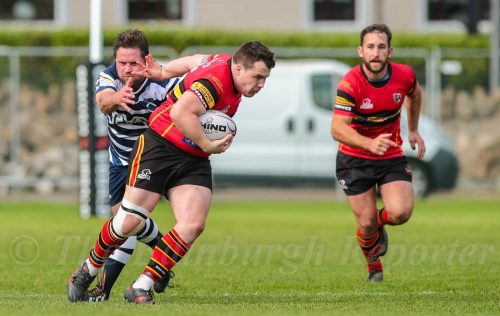 Match report courtesy of Kevin Murchie, Stewarts Melville RFC
As Ziggy once said regarding some ch-ch-ch-changes, 'I watch the ripples change their size but never leave the stream'. Whilst this may sound a bit Eric Cantona-ish (i.e. make no sense), the point is that, when changes are made, the fundamentals remain.
I was pleased to see Happy back, making his first appearance for the 1st XV this season and forming a solid combination in the midfield with Struan Allan, who also was making his first start. Jack Somerville was in on the left wing for the injured James Ferguson. I understand James, being the athlete he is, has tweaked his hammy. Ice and rest and hopefully he will be back soon. My previous reference to Dave Hampton's versatility saw him moving to full back while the Border terrier, Fraser Strachan, started at 9. The forwards were largely unchanged with the exception of Matt Sanderson coming into the second row in the absence of the injured Momo and Willie Malcolm moving to number 6.
Our team on paper, including the bench, looked very strong, an indication of the fact that we do have strength in depth and that there is competition for places. My 'mole' in the Glasgow Accies camp informs me that they, too, have had a number of injuries, and, along with availability, this would seem to be the curse of amateur (and, to a degree, professional) rugby. The 'mole' referred to is my brother-in-law, Rory Duff, son of the former Scotland international and British & Irish Lion, Laurie Duff.
Rory, like his Dad was, is a Glasgow Academical stalwart who previously packed down with John Beattie way back when. Regrettably he couldn't make it today due to the possibility of succumbing to a nose bleed if travelling east on the M8. He does, however, ensure me that he will make the return fixture. He did also have a reasonable excuse, the Davis Cup at the Emirates. To be fair, he did call to wish both teams best of luck and hoped it would be a draw. Ever the family diplomat – that certainly wasn't what I was hoping for!
Accies currently sat bottom of the league, although not far from us, and had lost their first two games. Along with how good a team looks on paper, this is irrelevant at such an early stage of the season. What was relevant is how the teams performed on the pitch.
Good conditions prevailed, with thankfully no backlash from Hurricane Florence. With a healthy number of away supporters, including a well known BBC Scotland broadcaster, Accies kicked off towards the Ferry Road end. After various attempts by both teams to clear their lines or gain territory, and with Stew Mel conceding a number of penalties, the game was temporarily stopped due to the first casualty, the Accies number 9, with only 5 minutes having been played.
Proceedings soon resumed and the first scrum was good from both packs; whilst the ball was quickly moved wide by Accies, some good defence and an excellent turnover by Ruaridh Mitchell enabled Stew Mel to clear their lines once more. Unfortunately a knock-on at the lineout gifted Accies another scrum and a good break by their number 6, PJ Rankin, ended with his centre Scott Simmons scoring the opening try with only 13 minutes gone. Stew Mel 0 Accies 5.
After a period of kicking with either little or no effect, Accies were again on the attack, but were penalised for crossing as they were almost in for another – which they were shortly thereafter courtesy of the agile Cammy Wray. 20 minutes played, Stew Mel 0 Accies 10. At this point Accies probably had at least 70 percent of possession with Stew Mel struggling to get their hands on the ball. I am sure they felt they could have been further ahead notwithstanding the two missed conversions.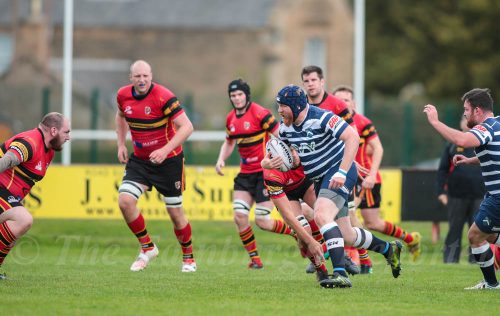 Stew Mel suddenly seemed to ease their way back into the game, though, with some good forward play, and, most importantly, retained possession for significant periods. Another forceful drive by Thor was followed by a powerful run by Struan Allan, who nearly got over the line but was, regrettably, both penalised and injured in the process. He was replaced by Jamie McGurk. Some suggested, tongue in cheek, that this had been a tactical substitution, as, within minutes, Jamie came flying out of the blocks and danced his way through the Accies defence to score a superb try converted by Happy. Stew Mel 7 Accies 10, 25 minutes played.
This came at a crucial stage of the game as Stew Mel, after another period of aimless kicking, managed to start putting phases together and to attack with effect. Another substitution saw Connor McKay coming off the bench, and what an impact he made, both in the set piece and around the park. Props are not supposed to field high balls or be able to pass off each side – but he did, which ultimately lead to some good hands out wide that allowed Sean Murchie to cross the line and open his account for the afternoon. Again the conversion was successful by Happy. 35 minutes played, Stew Mel 14 Accies 10.
A similar pattern of play ensued and it was becoming clear at this point that Stew Mel were definitely in the ascendancy, with some penetrating runs from Jamie once more and good ball carrying by Thor, Willie Malcolm and Matt Sanderson in particular. Half time Stew Mel 14 Accies 10.
Was this going to be a game of two halves? Right from the start and against the run of play, Accies broke out of their own 22 and scored in the corner, substitute Callum Duke taking the credit. Stew Mel 14 Accies 15, with only 5 minutes gone in the second half.
Another Stew Mel substitution due to injuries saw Dave Hampton moving to blindside flanker with the full back berth being filled by scrum half Charlie Simmonds. The Accies forwards were now competing well in both the set piece and loose play, with their number 8 Ryan Sweeney particularly prominent. After a spell of defending their line, Stew Mel managed to clear and a long kick by Jack Calder saw the ball bobble over at the halfway line which certainly gave us a breather.
Although momentarily losing possession, Fraser Strachan was in there again with a crucial turnover, and, after some good hands through the backs, a pass from Jack Calder gave 'Moses' Murchie the opportunity, as the Accies defence parted like the Red Sea, to touch down between the posts. Happy converted once again – he certainly had his kicking boot on today! 60 minutes played, Stew Mel 21 Accies 15.
At this stage Stew Mel were on top. After Happy made more progress, a big drive by Ruaridh Mitchell, allied with the exceptional quick feet and side stepping of Doug Randall, put the versatile Dave in for another try, again converted by Happy. Stew Mel 28 Accies 15 – 65 minutes played.
The dominance was now clear to see, good scrummaging and a combination of quick hands and feet this time seeing Fraser cross for a well deserved try. 70 minutes played, Stew Mel 35 Accies 15. By now it seemed inevitable that there would be more tries to come, and, around the 75 minute mark, Sean was again given the space he needed to touch down once more. Stew Mel 40 Accies 15.
The last 5 minutes were very one sided, like the previous 20, with the full time score Stew Mel 40 Accies 15 and a bonus point win.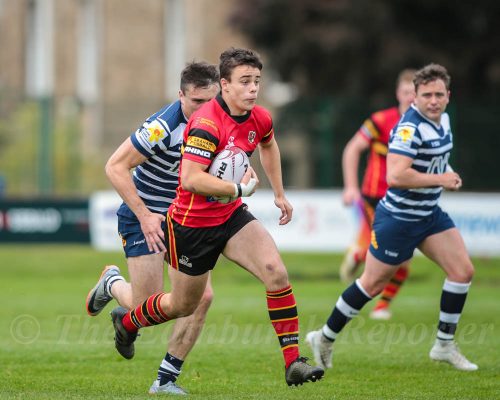 What a difference a week makes – but, as I said after the Biggar game, there were positives to be taken from last week's defeat, and this was clearly on show at Inverleith. It was an exciting game and I think it would be difficult to argue that the better team eventually won. We have been in very similar situations to Accies and the last 20 minutes of the game mirrored some of the defeats we experienced last season. Stew Mel really performed well in the second half, particularly, when it was evident that their game plan was coming together. It was also reassuring to see our fitness levels surpassing those of our opponents.
I am somewhat surprised at Accies' position in the league, although, as I have said, it is early days and they will definitely improve as the season progresses. They have a very strong pack and they have some exciting – albeit young – players in the back line. They may have had a challenging start but watch this space.
Once again it was great to have that Fingood factor in the clubhouse afterwards – despite the fact there was no free admission or free beer this week!
Images from the match have now appeared here