A good review is sought after by nearly all Edinburgh Festival Fringe performers but one Edinburgh Napier student wouldn't take offence to someone describing her show as rubbish.
Chloe Martina Salvi, a Lighting Design student from Edinburgh Napier's School of Arts and Creative Industries, is showcasing her unique work throughout this year's Fringe as part of Gallery 23's Reuse, Reinvent, Reimagine exhibition.
Running until 28 August, the exhibition aims to highlight some of the world's most pressing environmental problems, with a large emphasis on waste and humankind's apparent inability to dispose of it.
Chloe's piece – Dust – was created as part of her major project at university
and explores ways of looking at discarded matter and waste differently through the use of light.
Gathering a collection of organic and synthetic dust – including waste tyre, Styrofoam, meteorite and pollen – the items are 'frozen' within cubes which can be looked at by shining different types of light on the pieces.
The striking cubes come to life when light shines through, allowing the viewer to see the dust and its characteristics in great detail.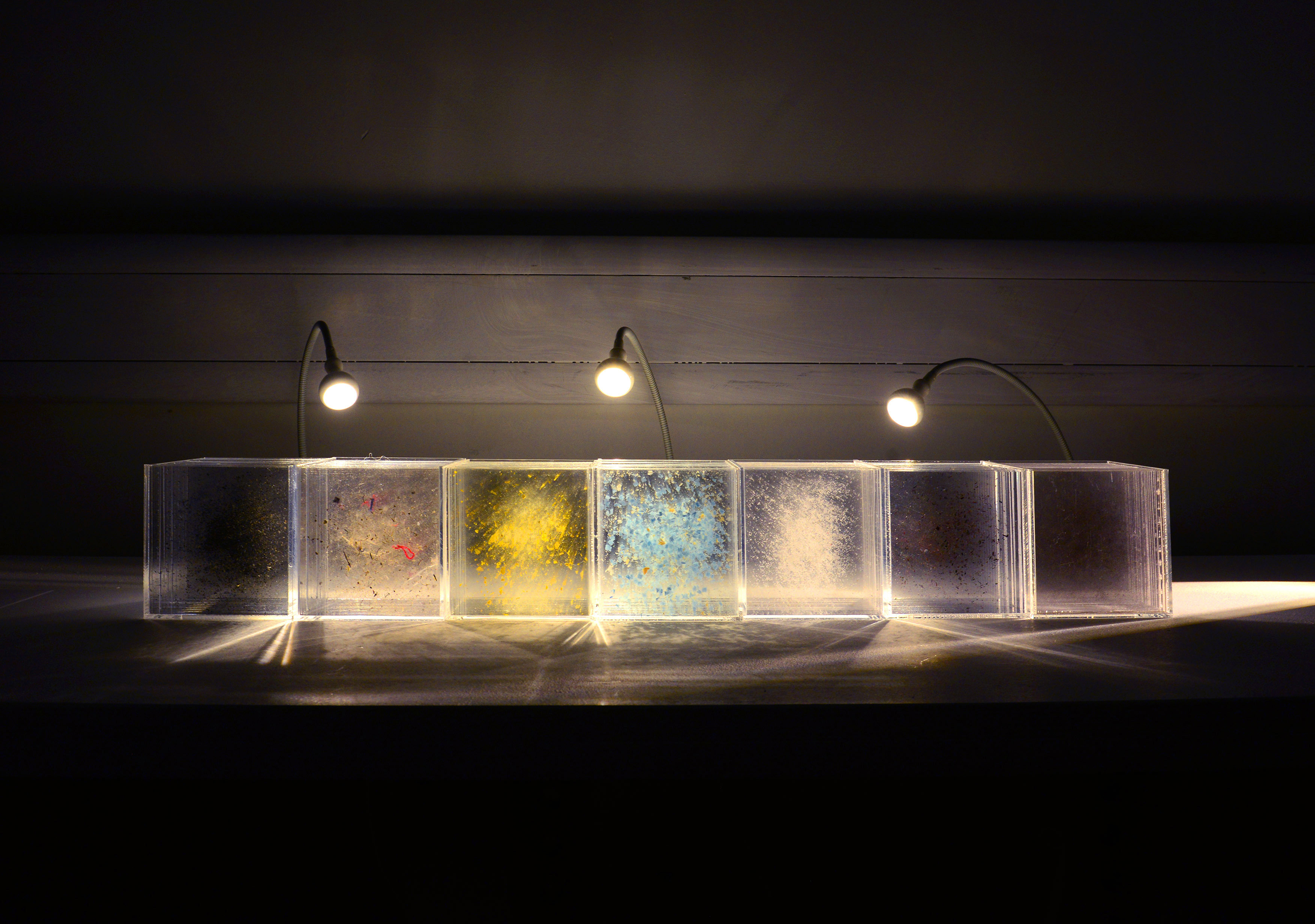 For Chloe, her fascination with the connection between light and dust was one of the key drivers behind the project.
She said: "My recent work has revolved around exploring ways of looking at
discarded matter differently through the use of light. Dust and light are often
associated in the ways they shape and reveal each other and I find the
relationship between the two fascinating.
"Dust has inherent poetry within – it is has the characteristic of not being easily controlled, quantified or compartmentalised. I think that is a very interesting way to blur the conceptual and physical boundaries that separate us from discarded matter – and our great efforts to control or ignore it.
"It's been incredible being able to show work during the Fringe. There are so many people who have travelled from all over the world who are here to enjoy the many cultural events that are taking place – it is a unique and rich
environment.
"I know that Reuse, Reinvent, Reimagine is seeing lots of people attend
which is fantastic. If the exhibition can get people to think differently about
waste and the opportunities that lie within waste then it will have been incredibly worthwhile.
"Waste can be beautiful when used in unique and different ways. The opportunities to use it within art really are endless."
Reuse, Reinvent, Reimagine runs within Gallery 23 on the city's Atholl
Crescent until 28 August.
More information here – https://gallery23.org.uk/exhibitions/