We met Heather Croall at 10 in the morning, and it must be said she was already firing on all cylinders. She is totally enthusiastic about the job she has held for just over three years as Director of Adelaide Fringe, and is clearly having a busy time here in Edinburgh too, promoting the fringe in the Southern hemisphere.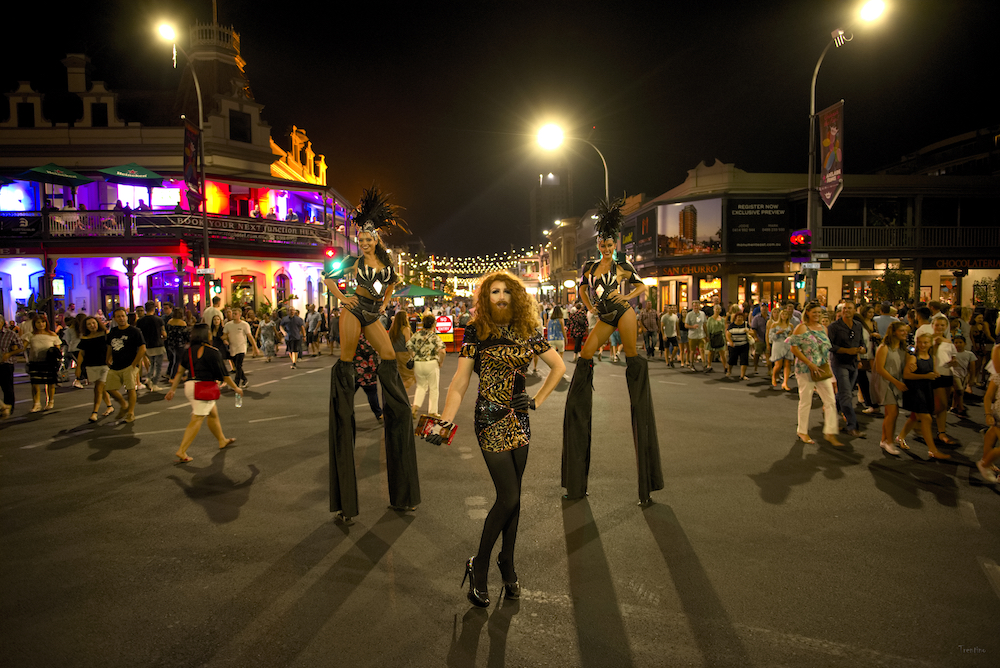 She told us that the job of the Fringe is to take in ticket money and pay it to the artists and producers who take the risk in staging shows. There is a renewed emphasis on attracting tourists to Adelaide as they now need a bigger ticket buying audience.
If you click here you can enter the competition to win a holiday for two to Adelaide for five nights with flights, accommodation and Fringe tickets all included. This is a big prize, and shows how keen the Australians are to persuade some tourists to make the journey to Adelaide during our winter.
What the organisation does not do – in common with the Edinburgh Festival Fringe Society run by Director Shona McArthur – is stage shows themselves.
The Director of Adelaide Fringe spends the whole month of August at Edinburgh Fringe which she regards as important for the Adelaide team. She is here to meet and be met by anyone interested in going to Adelaide. Heather said : "We come here for a number of different reasons. We meet with a lot of artists, many of whom come to Adelaide Fringe too. We're here to explain how Adelaide works, what the opportunities are to come over.
"We are an open access venue very similar to Edinburgh Fringe, and so it is all about artists registering. We have to help those interested in coming over, perhaps to find a venue that suits their show.
"There is also a big industry element in Adelaide Fringe, so people from all over the world who programme festivals and venues all descend on Adelaide to scout for shows. Equally, Edinburgh has a big industry element going on and many of my days here are spent meeting industry decision makers. By that I mean someone who might be a curator of another festival – Soho Festival or Germany for example. Or we might meet a new touring producing company who are looking to pick up a new circus act.
"These opportunities exist in Edinburgh and at home in Adelaide for those who are beyond the public facing opportunity of the Box Office right here, right now. Future bookings are very important to both festivals. We also take place in the summer – but the Australian summer – which is February/March, so the two events are six months apart."
Edinburgh is the biggest Fringe in the world but Adelaide is the second biggest and the second oldest too. Heather told us : "We were born about ten years after Edinburgh Fringe and we're now nearly sixty years old. So our model is very similar to Edinburgh, and although there are about 3,000 shows here, we have about 1200.
"One thing that has happened in recent years is that there is an explosion of Fringe shows on the planet! Until about 1995 or 2000 there might have been about twenty or thirty fringe festivals. In the last fifteen years hundreds have sprung up, and most are now about five or ten years old. So Adelaide is proud to be second to Edinburgh. Both of us have an audience demographic which has become very broad over the years. It is hard for the newer festivals to get into that immediately, and they attract more specific demographics than either Adelaide or Edinburgh."
There are other similarities as the Adelaide International Festival and Book Week, as well as WOMADelaide which is a music weekend.(WOMAD stands for Weekend of music, arts and dance)
Adelaide Fringe is run on a not for profit basis. In the same way as the Edinburgh Festival Fringe Society, they regard themselves as a platform for people to help their careers getting started. Heather explained : "Our job is to try and sell as many tickets as possible for the artists. The artists and venues are taking the risk at the Fringe and our job is to sell as many tickets, look after the box office dollars coming in and then pay that out. We sold $17 million worth of tickets this year and that money goes out to the artists and the venues. Our job is not to present work, and we don't compete with the registered artists. Our job is to help them, and one way we can do that is to grow the number of tourists who come to the Adelaide Fringe."
You can listen to our full podcast here :
Next year Adelaide Fringe takes place between 15 February and 17 March 2019. The 2018 Adelaide Fringe generated a 19.3 per cent increase in visitor expenditure to $29.5 million and a record $90.6 million in gross economic expenditure for South Australia.
Released earlier in the summer, the 2018 Adelaide Fringe Annual Review (you can download the full report here) puts a spotlight on the festival's overwhelming success in boosting the local economy and giving more back to its artists than ever before.
This year's Fringe set a new record for visitor spending thanks to more interstate and international festival-goers (up 8 per cent to 20,244) staying longer in Adelaide (visitor bed nights up 21.1 per cent to 97,941).
Glowing responses from grateful Fringe artists also feature in the Review. This year's festival became the first Fringe in the world to abolish inside charges on ticket sales thanks to a $1 million funding injection from the State Government.
One of the very lovely things that Adelaide has that we don't here in Edinburgh is a hosting service. On their website they explain that you might like to put up an artist for the duration of the Fringe in your spare room.
Perhaps with increasing rent costs and rising hotel charges we could do that in Edinburgh?