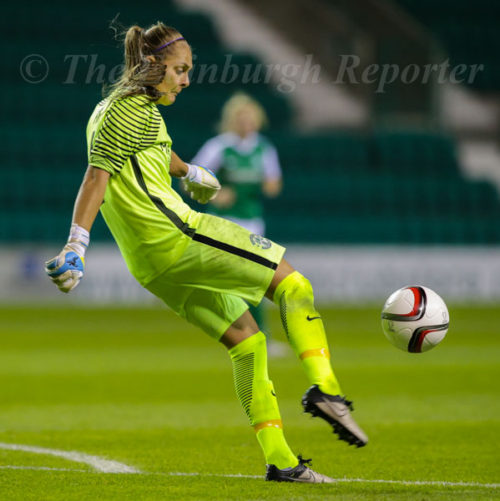 Hibernian Ladies goalkeeper Jenna Fife has received another call-up into the Scotland squad as they seek to qualify for next year's World Cup in France.
The national team face Switzerland on 30 August in Paisley and need to win by two goals and follow that up with victory away to Albania five days later to qualify.
She told Hibernian Media:"I'm obviously delighted to be called up and it's such an honour to be involved with the national team. That's especially the case for these games as they are absolutely massive.
"The team are going into two must-win games that will determine whether we qualify or not for the World Cup, so I am looking forward to being involved with the group for that.
"It's an unbelievable experience to be a part of the group. When I am there I'm training with world class players that are playing all over the world in some of the best leagues, so the standard is very high.
"Gaining experience at that level is fantastic and it's just about pushing myself in the squad and getting more game time would obviously be good. I'm just looking to better myself as a player and in these types of situation.
"I really enjoy it when I am away with them and it's a fantastic honour for me."
Hibs face an Edinburgh Derby against Spartans at Ainslie Park on Sunday which kicks-off at 1pm, and Fife knows that the squad are in for a hard match.
She continued: "The squad are always up for a derby, but so are Spartans. They are a hard team to play against, they are hard to break down and very organised, but we are going in with the mentality of "we have to win" and we are positive that we can do that and stay top of the league.
"We have got such a good team and the attacking football we play is so good, but defensively we are solid as well. We score a lot of goals and we concede very little, which is how you win games and that's how we've won games all season.
"Throughout the whole team we have got such a strong squad and amazing depth with great players on the bench who could easily play.
"There's so much competition which is what you want at the club and everyone is ready for the match against Spartans."
Entrance to Sunday's SWPL game is £5 for adults and £3 for concessions