Compelling and raw, the National Youth Theatre's production of The Reluctant Fundamentalist, asks of its audience more than to simply observe.
Set just before the events of 9/11, we follow the story of Changez to see how his identity has been shaped in different ways. We are committed to thinking about how we see difference and how we approach others.  Our treatment of ethnic minorities is questioned as we are forced to face the reality of the prejudices they face. Through learning of the story that is set before us, we are invited to ask 'who have you loved?' rather than 'where are you from?'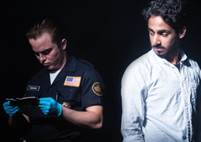 Immersion is one aspect of the performance which helps it to have such an influence. The audience are a part of the story as much as they are witness to it. Between America and Pakistan, we are transported easily. The characters are able to create around them boardrooms, bustling streets and leaf covered pavements and parks. The use of space is highly clever, creating places out of sound and light. The representation of space as transitory is meaningful in itself.
The piece uses characterisation as a way to show how identity is often decided by others. By using the same characters for a range of positions, identity is shown as a force that is liable to change. The performance is emotive and yet commanding; all are able to hold the room. Their ability to convey vulnerability and power is important as a juxtaposition to each other, illustrating how humans are composite beings.
In a time where politics is often about difference and where words are used to exclude, this play tries to show how these are constructed barriers. They demonstrate instead, how love can transcend all. The fact that we are human beings in the same struggle, it argues, is the community that we are all part of.  It is a powerful experience and a welcome antidote to an emergence of a politics of fear and hatred. This shows comes highly recommended; thoughtful and thought-provoking.
Summerhall, until 26th.