David Greig's solemn play is set in the hot summer of 1942 in an orphanage in the Warsaw ghetto where Dr Janusz Korczak is caring for 200 young people. They are in the heart of an area covering a few streets into which 350,000 Jews have been crammed.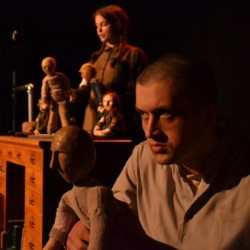 In Steve Small's austere production, cleverly animated by Nicola Milazzo's puppets, Fraser Dodds plays the selfless doctor with a heartfelt reverence. He also cameos as a heartless Gestapo officer and a toadying unchristian priest.
Lianne Harris's sweet-natured Stephanie, the doctor's plaited-haired assistant, is by turns doleful and playful. In an earnest professional stage debut she also has a brief role as a pistol-wielding German soldier. While Fraser MacRae is the feral, psychologically damaged Adzio and has a bit-part as Adam Czerniakow, chairman of the ghetto's Jewish council.
There is a pervasive sense in this timely production by the Leith-based Strange Town, set against the backdrop of a continuing refugee crisis seven decades on from the Second World War, that people have the capacity for good and evil and need to have good role models to follow, otherwise they might find themselves playing a bit-part in an immoral enterprise. After the Fringe, the production will tour Edinburgh schools.
At St John's Church, Princes Street, until Aug 11