When you watch a show on the Royal Mile or in Parliament Square it is often the children you see going forward with a couple of pound coins to put them in the performer's hat. Not any more. Now Fringe performers on the street will accept contactless payments for their tips.
The Edinburgh Festival Fringe Society has teamed up with iZettle to offer the first tap to tip.
Street performers will all have iZettle card readers allowing you to pay easily.
If the performers use Repeat Payments then they can accept continuous contributions from the audience even while they are performing.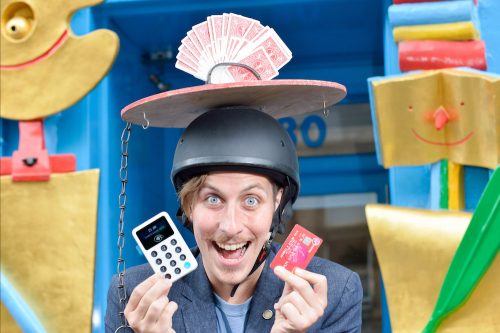 Super Scott, a street performer at this year's Edinburgh Festival Fringe adds, "Until now I've relied on cash contributions from audiences and I have definitely noticed a dip as the number of people carrying cash has decreased. The introduction of iZettle Readers at the Fringe is really exciting, futureproofing street performance and offering audiences an additional method of payment when showing their appreciation."
Andy Meldrum, Street Events Manager at the Edinburgh Festival Fringe Society, said: "Our street events are open to anyone and attract performers from all over the world. Artists rely on the generosity of the general public who stop to take in their shows when passing through our street event arenas.
"Whilst cash contributions have worked for street entertainers for hundreds of years, we need to respond to the changing circumstances, which are affecting street performers all over the world. Our partnership with iZettle is set to ensure our performers continue to get the support they deserve!"
Six tap-to-tip stations will be set up in the Royal Mile street events arena for the 2018 Fringe, with plans to extend the partnership over the coming years to cater for more of the festival's street performers.
Edward Hallett, Managing Director at iZettle UK, said: "More than 70% of iZettle's payments in the UK are contactless. Using our Repeat Payments feature at the Edinburgh Festival Fringe removes the manual payment process for artists, making tipping easier for the audience and performers alike.
"We're really excited to partner with the Fringe Society to give festival goers the choice to pay in whatever way suits them best, whilst making sure each performer has the tools needed to get paid."