At the Engine House, Edinburgh College of Art on Lauriston Place there is something you have to see. It is made up of sound and vision, and it is a main part of the Edinburgh Art Festival (EAF).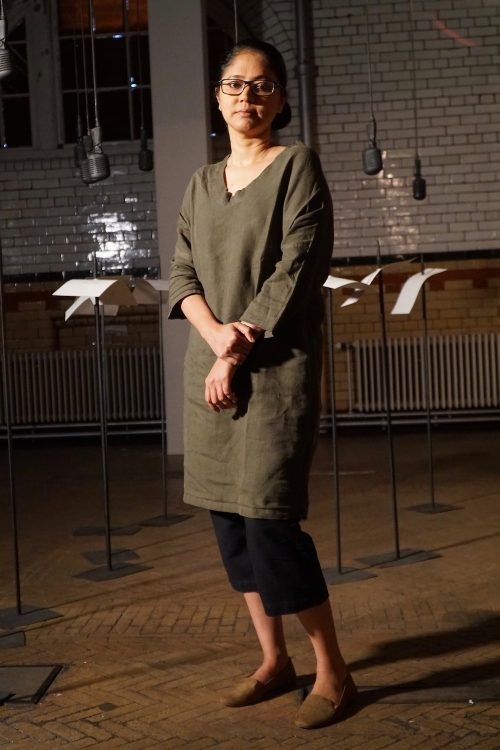 When I met artist, Shilpa Gupta, I was genuinely pleased as I had been looking forward to seeing this particular part of the festival. It was not yet complete however, so I shall have to go back. But I got a flavour of it, and already knew some of the thinking behind it.
This is not something new for the artist, but it is a new commission by the EAF, only one of four which make up the Commissions Programme. The idea is to take art out of galleries and into public spaces, sometimes into buildings which are not always open to the public, and of course the former fire museum fits the bill perfectly.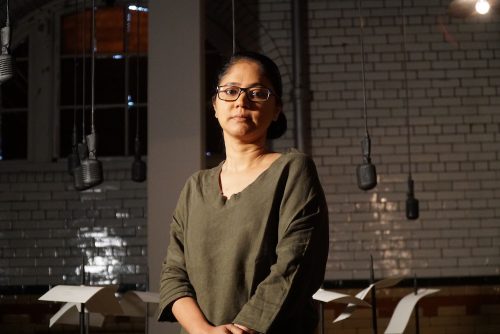 So what should you expect? It is an immersive 'experience' according to the artist. You walk through a hanging array of what appear to be microphones, but which are retrofitted speakers. They will randomly send out voices, with poetry, some singing and music all included in the mix. You will also see pieces of A4 paper on upturned spikes which on closer inspection have fragments of poetry on them written by poets who have been incarcerated.
The title of the installation created by the internationally renowned Indian artist is called 'For, in your tongue I cannot hide' It is intended to give voice to poets who have been jailed through the centuries, offering a reflection on freedom of expression (or perhaps the lack of it). Gupta has a deep engagement with language, the written word and something which seeks to control mobility either of the body or imagination.
We spoke to the artist, who preferred an audio interview rather than video and we hope you get a flavour of the 'experience'.
Born and based in Mumbai, Gupta's work has been exhibited around the world including Venice Biennale, Berlin Biennale, Tate Modern, Centre Pompidou, Solomon R. Guggenheim Museum, Devi Art Foundation, San Francisco Museum of Modern Art, and Mori Museum amongst others.
The Edinburgh Art Festival 2018 is situated in many galleries and other spaces across the city.
Full information about all that you can see here on their website.