Adam Husler is a yogi and he is leading Inner Strength Workshops on Sunday at Tribe Yoga at Quartermile.
The three workshops will be tailored to all levels of yoga student. The event is hosted by Scotmid and all proceeds from the day will be donated to Samaritans.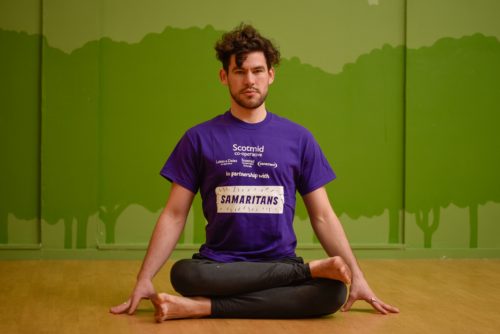 For details on signing up for one of the three classes see below. We asked Adam a bit about yoga and why the proceeds of Sunday's event will be donated to Samaritans.
1.     How and when did you get involved in yoga?
 I've done yoga in some sense for over a decade, but it became a more significant part of my life about eight years ago when I moved back to a city where most of my friends had long left, where my job was just 'ok' and my body was constantly aching from too much time in a boxing ring. My yoga practice turned in to a daily one, massively helping me both physically and mentally, though a challenging period.
2.     Why should people consider yoga as a form of exercise and what would I do to start as a complete beginner?
Talking from a purely physical perspective, yoga isn't a flexibility class. It's a chance for a little physical self-enquiry where we regulate our breathing, build strength in places where we are lacking and find openness in areas where we are too tight. Though yoga can also be a wonderful antidote to office worker's slouch or a runner's legs!
If you are looking to try yoga for the first time, look out for intro offers at a few local studios, try as many classes as you can and see what style and teacher you resonate with most.
3.     How often do you practise? 
In some form, every day. Sometimes it's just meditation, sometimes it will be handstand filled dynamic practice, but most often it's just what my body and mind feels is right in that moment.
4.     And do you change the moves you do each time? 
Some yoga styles have a set sequence like Ashtanga and Birkam, but in my teaching I create a new sequence each week, where the primary focus is a particular area of the body.
5.     Any particularly complex poses you can share with us? How long did it take you to learn?
Whether you can do an advanced looking pose or not is dependent on; your proportions, how long you've practiced yoga, whether you went to dance school at 3 years old, your genetics, whether you've had a coffee – the list goes on!
Essentially, I view an advanced physical practice as one where you are challenging what your unique body is capable of at that time, and are fully integrating and aware of every part of your body throughout. As such, physical yoga is as hard for me as it's has ever been; but visibly it looks different.
6.     Does yoga always have to enhance your mood? 
Absolutely not. We're looking for equanimity, not extremes. Through self-enquiry we are looking to regulate our reaction to stimuli, whether that is the difficulty of an asana or your housemate not washing the dishes, again!
7.     What does it do for you and the way you live? 
It allows me take on everything life can throw at me, the good and the bad, with a little more mental ease. Of course, it also means I can walk on my hands when the need arises and fit myself in to small spaces!
8.     Do you follow a particular diet too? Any tips you could share?
Though most of the stuff that goes in to my mouth is vegan, I wouldn't call myself vegan. I try to eat in a way that causes as little harm and suffering to other beings as possible, but at the same time acknowledge that sometimes harm is involved in the food I eat, the clothes I wear, the flights I take etc etc. So I'm far from perfect but I try to be as conscious as possible in the way I interact with the world.
9.     What can participants expect if they book to come along to your workshop on Sunday 6 May?
Sunday will provide a great opportunity for likeminded people to come together, whether they are trying yoga for the first time or have been practicing for years, while helping to raise valuable funds for Samaritans. Of the three sessions, the first is a light hearted practice suitable for all. The second sessions will focus on the tighter parts of the body; I'll be moving through them actively and Holly Davis will also be on hand to offer some kinder yin poses! The final class is a workshop for regular yogis, where we'll concentrate on safely deepening backbends.
10.  Why has the charity Samaritans been chosen as the beneficiary of any proceeds from the event?
A little while ago I wrote about the fantastic work that Samaritans does in one of my blog posts, which spoke about working when 'life is falling apart'. A friend who has close links with Scotmid Co-operative, who partnered with Samaritans as its charity partner last August, got in touch to see how we could work together to help raise valuable funds for the charity. The yoga workshops seemed like a great idea and with all proceeds going to the charity, we're expecting it to be a great success!
Every year, around 700 people take their own lives in Scotland and the charity currently receives around 300,000 calls every year.
Scotmid hopes to raise £300,000 to help Samaritans ensure its 19 branches across Scotland can keep their doors open and fund 60,000 appeals for help.
I'm looking forward to seeing everyone on Sunday and helping to raise awareness of such a valuable cause.
The events will be held at Tribe Yoga Quartermile on Sunday 6th May. To sign up visit the Tribe website here.