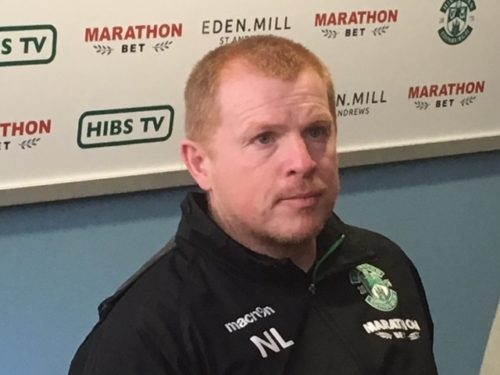 Hibs' Head Coach Neil Lennon described yesterday's 5-5 draw with Rangers as 'absolutely bonkers' and admitted that he sent his players out with the objective of winning 6-0.
That would have secured third place in the table and for a while it looked on as Hibs raced  into a 3-0 lead before the visitors fought back, hitting Lennon's men on the break.
In the end both teams shared 10 goals and for the second game in succession every supporter in the ground applauded both sets of players off the field after a remarkable 94 minutes of breath taking action.
After the final whistle, Lennon who was sent off just before full time for his 'aeroplane' celebration on the pitch after Jamie MacLaren's late equaliser spoke to the assembled media pack.
He said: "It was bonkers, absolutely bonkers. I enjoyed it immensely and I am thoroughly delighted we got something out of the game because we deserved it.
"We had to gamble. when you get to 3-0 you think it is on.
"We just got a bit loose with tactical discipline, but there was no tactical discipline out there today.
"We sent them out to win 6-0.
At 5-3 down you think they don't deserve to lose the game and they showed great character to come back and take something form the game.
"I'm disappointed we have not won it. It sums up the season here at Hibs.
"It's been pretty entertaining for the punters coming in through the gates."