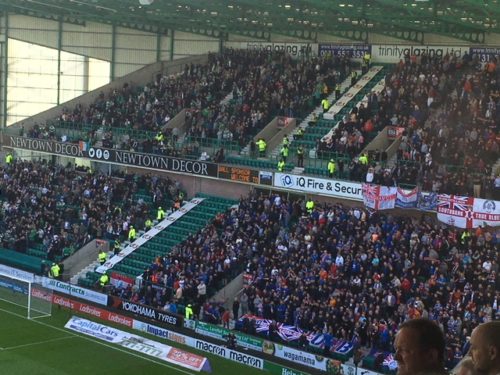 Hibs' Head Coach Neil Lennon does not expect to receive any further punishment after being sent to the stand yesterday following his 'aeroplane' celebration on the pitch in front of the Rangers fans.
After a traumatic few days, Lennon returned to the dug-out insisting that his players would try to make up the 10 goal deficit. Few believed him until Hibs grabbed a three goal lead in the first quarter of the game.
With Easter Road rocking, Hibs pressed for more goals leaving themselves vulnerable at the back and sure enough Rangers hit them on the break, eventually taking a 5-3 lead.
This time it was the visiting supporters turn to celebrate and they made their feeling known to the former Celtic players and manager, singing a song calling him a "Sad Fenian B*****d"
Lennon responded with positive substitutions and Hibs immediately pulled one back then in time added on, Jamie MacLaren completed his hat-trick to level the score at 5-5.
As three and a half sides of the stadium erupted in joy, Lennon ran onto the pitch toward the away end with his arms outstretched mimicking an aeroplane before jumping high and punching the air.
The celebration earned him a trip to the stand but he walked down the tunnel with 'There's only ne Neil Lennon' belting out form his adoring fans.
After the game, he was questioned about whether he anticipated a further ban for his actions.
He replied: "They (Rangers fans) make it personal, don't they? You all hear it. They were singing sectarian songs at me.
"It was just a little bit of, 'have some of that'. It was worth it. Trust me. Bobby (Madden – fourth official) was fine about it. I should not get a ban for that, I was nowhere near them. I was just letting them know how pleased I was to get the equaliser.
"It was harmless, was it not? The sending off is enough and I should not get further punishment for that.
"I was nowhere near them (Rangers fans). I was about 50 yards away when I stopped – just as well! It was worth it, I enjoyed the moment."