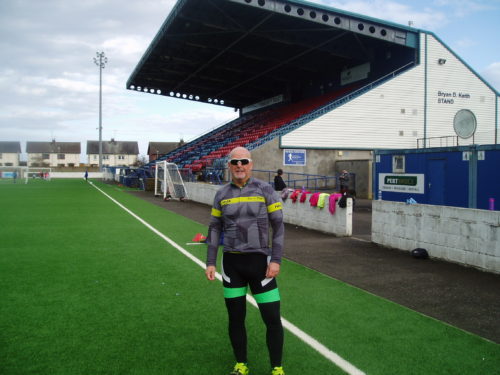 Sunderland based Hibs' fan Hugh Cockburn's quest to cycle to every senior Scottish football ground  in memory of Hibernian Supporters Club St Patrick's Branch Member Shaun McKinley is nearing completion.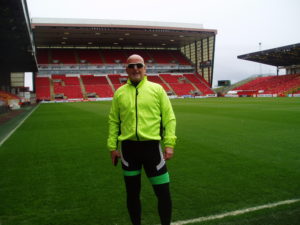 On 2/3 May, Hugh visited the homes of, Aberdeen, Montrose, Brechin, Forfar, Arbroath, Dundee, Dundee United and finally St.Johnstone.
Shaun sadly passed away after a brave fight with cancer on 31 Dec 2016 and the cycle is a sponsored event and people can contribute by visiting the St Patrick's Branch donation page and marking their donation 'Hugh's Shaun McKinley cancer appeal.'
Donations can also be made on Shaun's Just Giving page.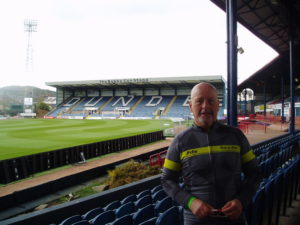 Hugh told the Edinburgh Reporter: "I attended Shaun's funeral and the turnout was amazing and I realised then that I wanted to do something to 'honour' him and the McKinley family.
"The weather was a bit kinder to me this time round, although I faced a strong bitter cold head wind on the leg from Arbroath to Dundee.
"I have now completed 36 of the 42 stadiums, covering a distance of 893 miles.
"My next leg is to visit Stranraer on 30/31 May and 1 June, which should see me over the 1000 mile mark.
"I'd like to thank everyone for their support and kind wishes."
The Edinburgh Reporter has been following Hugh's adventure and he has kindly sent photographs from his journey