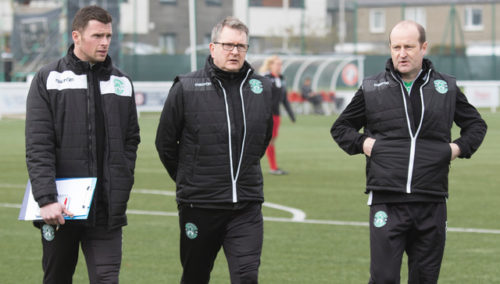 Hibernian face rivals Glasgow City for the third time in four weeks this Sunday at Petershill Park.
Both sides have made strong starts to their 2018 campaign with Glasgow ahead on goal difference although Hibs emerged victorious in the semi-final of the SWPL Cup.
Hibs manager Grant Scott (on right) told the club website: "We have another tough match in prospect this week. We've worked hard all week and we are now looking forward to the match.
"We're well aware how evenly matched the two sides are so hopefully we can produce a solid performance as we know any slips ups will be punished by City.
"It feels a shame that the fixtures have thrown us together three times in the last month especially for spectators who look forward to the fixture but the players are strong enough to deal with it and we'll be ready."
Chelsea Cornet added: "Following last weekend's result, as a team we are really looking forward to the upcoming game, especially with it being a top of the table clash.
"Bringing our focus back to the league, we are looking to continue our 100% winning streak. We know our capabilities and are brimming with confidence. Although we achieved a comfortable league cup win against Glasgow City two weeks ago, it is key that we are not complacent.
"Having struggled in previous years with topping the league table, we are hoping to turn that around this season and in order to achieve this we must perform to our very best as we know the threats City pose.
"After a good week of hard work at training we are fully prepared for the challenge and hoping to gain a vital three points to sit top of the table by Sunday night."
Admission: £5 Adults, £2 Concessions. (KO time: 2.10PM)
Photo courtesy of Thomas Brown