The Edinburgh based charity Comas which works with people on a recovery journey has to move out of their HQ at Jackson's Entry by the end of June this year. They now need your help in identifying new premises and also helping to pay for the move.
They run a café at their current location, but it is much more than that with meeting rooms used for a number of organisations too.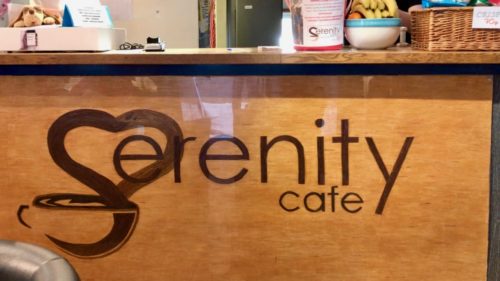 We spoke to Fiona Morrison the charity's Chief Executive to find out what people can do to assist, and to find out what the problem really is.
She said : "We've been here for about seven years now, and three months ago we received notice to quit from our landlords. We have absolutely no problem with that. The landlord has been very good to us thus far, and it is purely a commercial decision on their behalf. However this leaves us with a great problem, as we don't have anywhere to go to and we have several thousand members who need our support, who need a safe dry place to go to. So we are looking for new premises.
"We are looking after people in recovery here,, people who are in recovery from addiction to drugs, alcohol or perhaps just life. These are people who need somewhere safe to go to and they come here for peer support or support from our community support team.
"The café is a social enterprise which supports our Serenity programme for members who are in the first stages of recovery, or may not even be in recovery yet. We have a lot of people signposted by their social workers or other agencies. What we do is meet with our community members and have a chat with them and see what their needs are. We would hopefully then support them into volunteering with us and quite a lot of our community members progress into paid employment with us too. Some go on to work in the café and our back office."
So what can you do to help?
Fiona explained : "What we are looking for at the moment is help in identifying new premises. There are a number of properties around Edinburgh that we know are empty, that we know we can move into but we need help to identify them. Once we do we also need practical help to move and financial help to move as well.
At the moment the charity is fully funded but they need some money to help with any refurbishment costs. Fiona continued : "We anticipate that any properties that we go to won't have the same facilities that we currently have which are fantastic. We have café space, event space and back office space. We also have meeting room space and we run a number of groups here like AA and Family Anonymous. A lot of these groups rely on our support. They rely on having a safe place to come to  so we are looking for premises which are ideally the same as we have – that is a bit unrealistic! – but premises that we can fit everything into"
This is however not a charity which is just asking for a handout to stay in existence.It is a charity which makes a difference and which tries hard to be sustainable through its own endeavours.
Fiona said : "When some of our community members came through our door they were at rock bottom with nowhere else to turn to. We save the government hundreds of thousands of pounds because we provide that support. A lot of the facilities are revolving door facilities but we provide that ongoing support to ensure that people starting out their recovery journey can stay in recovery and therefore don't need the NHS or other services which are out there."
Comas has two separate sources of funding at the moment. They have private funders and grant funders such as the Edinburgh Alcohol Drugs Partnership which is one of the main funders behind the Serenity Café project. But the café is a social enterprise making money at Serenity and at the Storytelling Centre where they also run the café. This helps to fund their other projects such as WomenZone, Chances for Children and the community shop in Dumbiedykes which all receive funding from separate sources and which will continue as they are.
But Fiona concluded : "All other projects will continue, but it is the café which we are desperately looking to save right now."
You can donate to the Go Fund Me page here.