'War Horse' launched with a little help from Lewis and Kilmarnock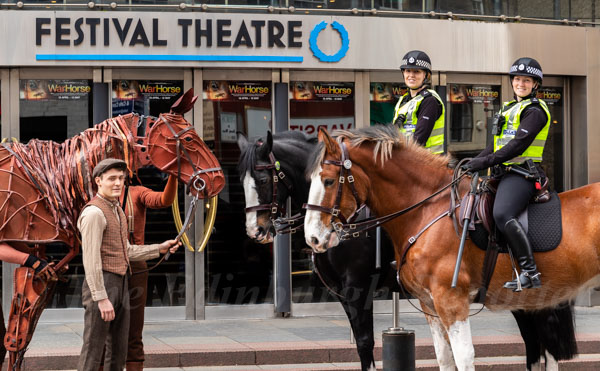 The Festival Theatre marked the opening of the Edinburgh run of the National Theatre's acclaimed production of War Horse by introducing Joey to riders and horses from Police Scotland's Mounted Unit.
Joey, the life-size equine puppet from War Horse was joined by actor Thomas Dennis (who plays Albert) and Matt Forbes (Puppetry director) and the puppeteers operating Joey in Edinburgh: Tom Quinn (head), Chris Charles (heart) & Sam Parker (hind).
Police Scotland's Mounted Unit provides vital support to policing public events and its riders and horses operate daily reassurance patrols across Scotland and Joey was joined outside the Festival Theatre by PC Claire Hunter riding Lewis, and PC Kaeren Muir riding Kilmarnock.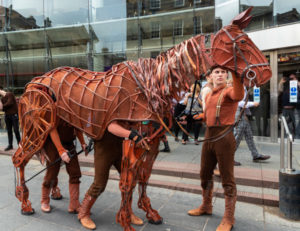 War Horse is the powerful story of a young boy called Albert and his beloved horse, Joey, who has been requisitioned to fight for the British in World War I. Caught in enemy crossfire, Joey ends up serving on both sides during the war before landing in No Man's Land, while Albert, not old enough to enlist, embarks on a treacherous mission to find his horse and bring him home. A remarkable tale of courage, loyalty and friendship, War Horse features ground-breaking puppetry work by South Africa's Handspring Puppet Company, which brings breathing and galloping horses to life on stage.
War Horse is adapted by Nick Stafford and presented in association with Handspring Puppet Company. Directed by Marianne Elliott and Tom Morris design is by Rae Smith, lighting is by Tony and Olivier award-winning designer, Paule Constable and movement and horse choreography by Toby Sedgwick. The puppetry directors are Basil Jones and Adrian Kohler, with video design by 59 Productions Ltd, song-making by John Tams, music by Adrian Sutton and sound by Christopher Shutt. Katie Henry is the revival director and Craig Leo is the associate puppetry director. They are joined by assistant puppetry director, Matthew Forbes and resident director, Charlotte Peters.
Kash Bennett, the producer of War Horse said: 'We are absolutely delighted to be bringing War Horse back to Edinburgh after the sell-out success of our first visit in 2014. We hope that with Joey's first appearance in the city, we can bring people in Edinburgh a taste of the theatrical magic and artistry that audiences can look forward to with this very special show.'
Michael Morpurgo added: 'After a few months rest, out at pasture, Joey, the War Horse and his great team from the National Theatre, are touring the UK again, and significantly during the centenary of the end of the First World War. I am so pleased this is happening; that so many more people will have the chance to enjoy this unique theatrical event. Steady boy, steady Joey. Trot on!'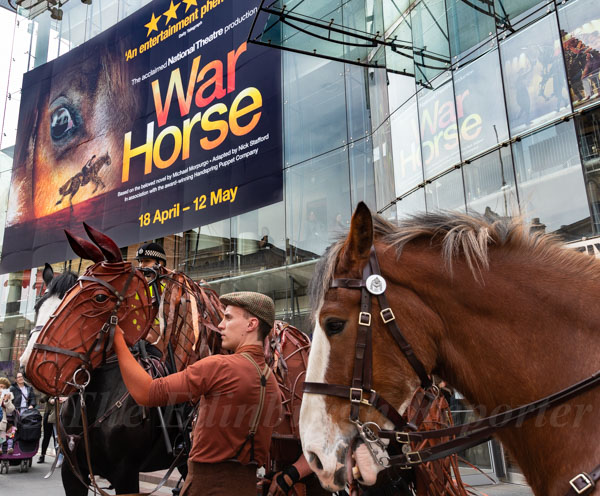 The tour of War Horse coincides with the Centenary commemorations of the end of the First World War and follows the production's sold-out tour of the UK and Ireland in 2013-2014.
War Horse, based on the novel by Michael Morpurgo, is at Festival Theatre, Edinburgh, Wednesday 18 April to Saturday 12 May 2018 as part of a national tour and is produced on tour by the National Theatre – http://www.warhorseonstage.com/.
WAR HORSE
Festival Theatre Edinburgh
Wed 18 April to Sat 12 May 2018
Evenings 7.30pm | Matinees Thu & Sat 2.30pm
Tickets: £61 – £18
How to book:
BOX OFFICE: 0131 529 6000
GROUPS (8+): 0131 529 6005
ONLINE: http://www.capitaltheatres.com/