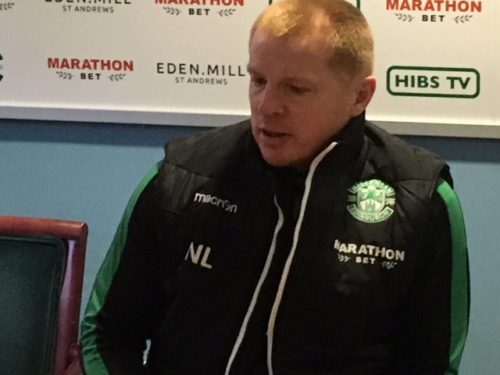 Hibs' Head Coach Neil Lennon said he was 'proud' of his players after yesterday's 'outstanding' victory of champions elect Celtic in front of a packed Easter Road.
Hibs outplayed and outfought the Glasgow giants and in reality, the scoreline flattered Brandan Rodgers' side.
A large and noisy travelling support came through to celebrate winning the title but they were silenced by goals from Jamie MacLaren and Vykintas Slivka.
At full-time it was the Hibs' fans who were celebrating to 'Sunshine on Leith' with second place now a distinct possibility.
After the game a delighted Lennon said: "I'm very proud of the team. I thought we were outstanding and played with intensity.
"We were playing the best team in the country by a considerable distance but I thought we deserved to win and I thought that our approach to the game was superb and they adhered to what we asked them to do
"We matched them all over the pitch and I don't think we were hanging on at the end.
"In terms of intensity we had probably not played like that before, but it was what we asked them to do and we knew they were capable of it.
"We had to be aggressive with out pressing of Celtic. We watched the game against them at easter Road ast time and we were passive. They were passing round us and we didn't want that to happen again.
"If you let them play they wear you down and tire you out.
"We tried to press them in high areas and force the issue and there was quality at the end of it.
"we did not want Scott Brown dictating the game and you have to get in his face and take the ball off him. Too mnay people dance around him and don't get close. I didn't want that.
"We had a few guys missing but the likes of Danny Swanson and Steven Whittaker who came in for us did  sterling job and the subs gave us life when we needed it.
"I don't think many would have expected that today and it puts pressure on the teams around us.
We didn't want to let Celtic win the title here. we feel they will eventually win it but we didn't want it to happen here.
"I didn't get any enjoyment out of it. Pride in my own team but no enjoyment. My team were outstanding.
"We have raised the bar here over the past 18-months to two years.
You have to be professional and you have your own standards to set here.
"The players will get a huge shot in the arm from that but nothing more.
"Will teams be fearful of us? I hope so but no-one has been talking about us, it's all been about Kilmarnock and other teams not doing so well and we've largely been under the radar. We've had one defeat in 15 and that was Cetic away which is never easy."