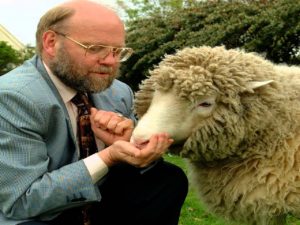 The birth of Dolly the Sheep at the Roslin Institute on the outskirts of Edinburgh in 1996 was one of the major breakthroughs in genetic engineering because Dolly was an exact clone of her mother.   The scientist leading the team, Sir Ian Wilmut, was experimenting with cloning in order to develop treatments for, among other things, Parkinson's Disease.
On Wednesday, World Parkinson's Day, Sir Ian revealed he himself is now, at the age of 73,  beginning to suffer from the disease.
With typical pioneering spirit, he is offering himself as a test patient for any experiments his fellow scientists wish to try in the battle to find a treatment.  It's estimated that one in every 350 adults will develop Parkinson's in their lifetime. But there are signs in mice that if brain cells cloned from the same individual are injected into the diseased animal, the deterioration of the brain can be halted or at least delayed.
Dolly was a controversial animal at the time. Genetic engineering was much feared. Would it lead to the cloning of a complete human being ? Was interfering with the human embryo an acceptable thing to do ?  We learned recently that one Green activist attempted to steal Dolly from her home in Roslin but he couldn't distinguish her from all the other sheep in the barn!
There are still such fears. But scientists, and their regulators, have so far calmed the debate by concentrating on the positive aspects of genetic engineering – curing diseases, correcting abnormalities in the womb, preventing debilitating conditions being passed down through the generations.   Let's hope we can keep that balance. It's another example of our modern ability to either preserve or destroy ourselves.
Yet another example is war.  And as I write, the British Government is balancing the pros and cons of supporting the Americans in taking military action against the Syrian regime for last week's chemical attack in Douma.  The SNP's defence spokesman Stewart McDonald says parliament must be given the chance to debate the issue before any British forces are deployed.
Nicola Sturgeon herself has been in China on a week-long visit promoting Scottish businesses and university courses.  It follows the announcement that, from June this year, there are to be direct flights, twice a week, between Edinburgh and Bejing.  Already, 41,000 Chinese business people and tourists are visiting Scotland each year.
Of course, links with China are not without controversy.  A heady business deal involving two state-owned Chinese companies investing £10bn in Scotland had to be abandoned last year when the firms were accused of corruption and human rights abuses.  And now there are questions being asked about a Chinese-backed plan for an offshore-wind electricity station at Cockenzie in East Lothian.  Labour's Iain Gray is wondering why the planning application has been taken out of the hands of the local council, just this very week,  and will be decided by the Scottish Ministers instead.
But another off-shore wind project is going ahead – the one Donald Trump didn't want, just off his golf resort on the Aberdeenshire coast.  The first of eleven giant wind turbines has been installed 11 miles off-shore and eventually they will provide enough electricity to power 70 per cent the homes in Aberdeen city.  Not to be outdone, the oil industry struck back with an announcement from BP of two new oil fields being developed west of Shetland.
On-shore, the Scottish economy is changing too.  High street shops are closing and being replaced with cafes, tea-rooms, restaurants and bars.  A study by the accountancy firm PWC found that an average of five shops were closing every week in Scotland, 290 last year.  No town escapes the closures, though Glasgow is the worst affected, with a net loss of 53 shops last year.
Shopping by internet is to blame, along with the continuing squeeze on ordinary household budgets. A comforting cup of coffee with friends is cheaper and cheerier than buying new clothes or visiting travel agents.
There are though some people who can splash out.  We learned from the Taxpayers Alliance that some 220 managers in local government – and their agencies – are earning over £100,000 a year.  And this at a time when 30,000 jobs have been cut in local government over the last ten years.
But hey, we have one thing to be cheery about this week.  Our team at the Commonwealth Games have won 35 medals, and still counting. That's more than we've ever won, except at the home games in Glasgow in 2014. We're riding seventh in the medal table – Australia are first, and England second.
Some of the highlights for me were: swimmer Duncan Scott winning 6 medals, including a gold in the 100m freestyle; James Heatly winning a bronze medal in the diving competitions, the first Scot to do so since 1958 when his grandfather  took gold at the Cardiff Games.
And, we were all so pleased that our team flag-bearer Eilidh Doyle held on to her silver medal in the 400m hurdles, the third time she's done so at a Commonwealth Games.  We may not be basking in the Australian sunshine, but we are basking in glory.
Now all the rest of us have to do is get fitter.