Young poets from Craigroyston Community High School took part in the recent Mother Tongue Other Tongue competition, and their efforts were acclaimed by judges amid over 100 entries from  across Scotland.
The award ceremony took place at University of Strathclyde when Maria Dorot was announced winner in the Other Tongue category. A group entry by Ella Blake, Ashley Forrest, Hollie Speirs, Ilari Tsiko and William Wilson was Highly Commended, and Sayma Hossain was Highly Commended in the Mother Tongue category. All of their work is published in an anthology.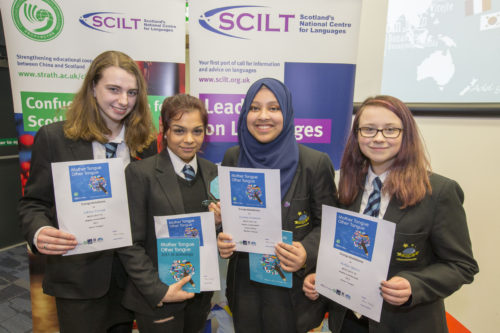 One teacher said of the competition: "I am extremely proud of all our pupils. It was a wonderful chance to hear so many beautiful languages being celebrated. Thank you for this opportunity."
Another teacher added: "Mother Tongue Other Tongue gives my quieter pupils confidence and self-worth."
One of the young competitors commented:  "It has been an amazing experience."
Fhiona Mackay, Director of SCILT, said: "Mother Tongue Other Tongue is a celebration of the many languages that are spoken and learned by young people across Scotland. The collection of their poems weaves a rich tapestry of voices that honours cultural diversity and pays testament to the wealth of Scotland's many languages and cultures. We were delighted to see such a high calibre of entries this year, submitted in 29 different languages.  Our congratulations go to the winners and to all who took part in the competition."
Mother Tongue invites competitors who do not speak English as a first language to write a poem, rap or song in their mother tongue and share their inspiration. Other Tongue encourages competitors learning another language to use that language creatively with an original poem, rap or song in that other tongue. Prizes are awarded in both categories.
Mother Tongue Other Tongue is supported by creative writer Juliette Lee, the University Council for Modern Languages Scotland, Languages in Colleges and the Scottish Poetry Library.
Mother Tongue Other Tongue is an exciting competition that celebrates linguistic and cultural diversity through creative writing and showcases the many languages used by children and young people across Scotland, in education and at home. Children and young people from primary, secondary and early years use their language skills to create and share poetry. The competition is organised by SCILT, Scotland's National Centre for Languages, based at University of Strathclyde. Jackie Kay is the patron of the competition.