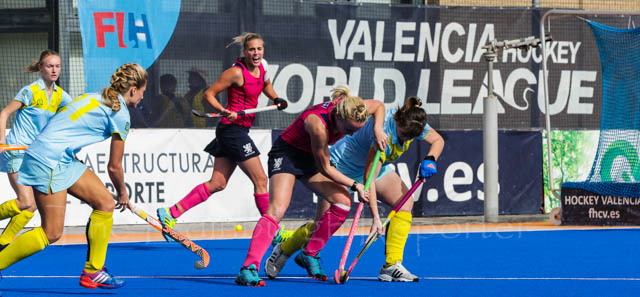 Hockey star Amy Costello flew to Australia with Scotland's women's hockey squad on a mission.
The Edinburgh-born athlete and her team-mates are determined to improve on their final position in the last Commonwealth Games in Glasgow.
And there is real optimism in the squad ahead of next month's major event Down Under.
Costello has enjoyed a whirlwind last two years which was sparked by her first senior Scotland cap at the EuroHockey Indoor Championships while she was still a pupil at Edinburgh-based, The Mary Erskine School.
Now, she has progressed through Scotland's under-age ranks to playing for Great Britain in a recent series in Argentina after impressive appearances for club side University of Birmingham.
There the defender was in the same dressing room as players who hold an Olympic gold medal from Rio. It was a massive step-up.
The Olympic Games must be in her sights but, for now, the sports science student is fully focused on the Commonwealth Games.
She attended Balerno High School's annual hockey dinner and told pupils of the importance of playing hockey at school.
Her career developed from there into club hockey, making her first appearance at the age of 15, and now onto the international stage.
Scotland women have been drawn in Pool B at the Gold Coast against Australia, New Zealand, Canada and Ghana. Pool A features England, India, South Africa, Malaysia, and Wales and the Games run from April 4 to 15.
She said: "I only got my first cap for Scotland two years ago and it's been a whirlwind and, in the midst of the hockey, there has been the University of Birmingham.
"I started playing hockey when I was about ten of 11 at school and Claire Lampard was probably the biggest influence in my hockey career starting.
"She was my hockey coach in my last year at school and it was a great journey for me through school hockey. I'll remember it forever.
"There a lot of sacrifice but it was what I wanted to do and so I am happy to make those sacrifices.
"If you don't work hard then you will not get to where you want to go."
She admitted that there is a lot of planning and organisation which goes into combining study and playing hockey.
Indeed, she has a key exam to sit two days after arriving in Australia.
And Costello agreed that playing hockey on a world stage in front of thousands and with a global TV audience is a massive chance from a handful of spectators at club games.
She added: "You have got to take it all in and focus on the job in hand and not what is around you as there will be a lot of distractions in the Games.
"Our best Commonwealth Games position I believe was fifth and in the last Games we were sixth.
"We are going to go out there and try to improve on our last position but it would be lovely to come home with a medal."