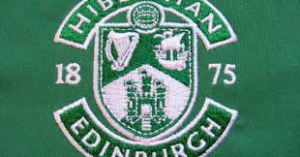 Hibs' on-loan striker Jamie Maclaren didn't hesitate when the referee blew for a penalty at Ibrox yesterday.
Anthony Stokes, the usual penalty taker left the club earlier in the week, so no-one knew who would take the responsibility.
Neil Lennon actually thought that John McGinn would take it but Maclaren grabbed the ball and calmly fired it past Wes Foderingam into the net, sparking mayhem amongst the travelling support.
The Australian started on the bench but an early injury to Brandon Barker gave him his opportunity and he grabbed it with both hands.
He actually had the ball in the net in the first half but his effort was ruled out for offside.
After the game Maclaren told Cliff Pike of Hibernian TV: "You always have to be ready as a sub and I've been waiting for the last two weeks  for an opportunity and there is no better place to do it than here (Ibrox)
"It didn't cross my mind not to pick up the ball so as soon as the referee blew the whistle  I knew I was taking it and it just felt right. Thankfully we have the three points now.
"As a striker it's about goals and what you gave bring to the team.
"Any goal is special and you live in the moment. To have the boys celebrate with me and to celebrate with the fans was an amazing moment.
"We don't really look at the league table but to be fair we are creeping up there. Our aim is to stay where we are and progress and not look back and drop down the table.
"In the last two weeks we have had some great results away from home.
"Credit to the boys that have stuck it for the last five games. It shows the fitness that we have and the the depth we have. I thought the young boy Porteous at the back was fantastic and it will do his confidence good. I'm sure the boys will give him the praise that he deserves.
"At then end I was doing some defensive work which was foreign to me.
"Five games in two weeks is a lot so We will have a good rest now and the boys will recharge their batteries.
"For the ones who haven't played that much we will do more to get up to speed."