The City of Edinburgh Council with support from Cycling Scotland and Sustrans has organised a glow in the dark bike ride to celebrate the rollout of the last part of the city as a 20 mph zone.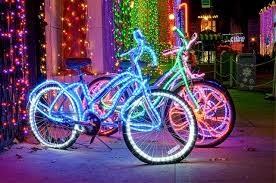 On Sunday 4 March 2018 cyclists will 'pimp' their bikes with lights and glow sticks to mark the eve of the rollout in Colinton to Comiston and Oxgangs to Liberton. This means that all residential and shopping streets in the city along with the whole city centre will now be 20 mph. There is also a strategic network of main routes on which the speed limit is either 30 or 40mph.
Starting from the City Chambers at 7pm on 4 March 2018 cyclists are invited to register now for the remaining places and then take part in the three mile cycle led by qualified guides from Cycling Scotland.
The idea is to promote safe night time cycling as well as have a bit of fun, although you must be 12 or over to take part and have your own bike.
Transport and Environment Convener Councillor Lesley Macinnes will welcome the riders to the GlowRide and say a few words to commemorate the completion of the 20mph rollout.
She said: "This glow in the dark bike ride is a great way to mark the end of our rollout of calmer and safer streets in the Capital. We know that slowing down traffic encourages people to walk and cycle more, helping everyone stay fit and improving air quality in our city."
Cycling Scotland's William Wright, Marketing and Development Officer said: "We are delighted to be working with the City of Edinburgh Council, Sustrans Scotland and the local communities on helping to deliver the GlowRide to mark the completion of the 20mph roll-out across the city.  Events such as the GlowRide are great opportunities for people to get out on their bikes and encourage them to continue to travel more actively to work, study, the shops or to visit friends and family – getting healthier, saving money and maybe even making new friends in the process."
The city-wide roll out of the 20mph in  Edinburgh has received Scottish Government funding through Sustrans Scotland's Community Links programme. Sustrans Scotland Community Links Manager, Dave Keane said: "The Glow Ride will be a fantastic way to mark the final stage of the introduction of 20mph streets in Edinburgh. Lower speeds on roads help reduce the risk and severity of collisions and make local neighbourhoods more pleasant environments in which to live, shop, walk and cycle.
"By reducing speed limits, building good quality cycling and walking networks and improving the layout of streets, even more people will choose to cycle and walk for more of their everyday journeys, benefitting themselves and the environment in which they live."