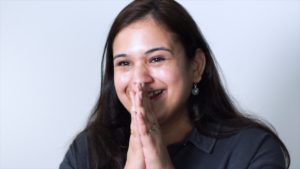 An Edinburgh based charity which offers mental health and well-being support for black and minority ethnic women has been awarded a grant from the National Lottery of more than £700,000.
Saheliya, which also offers support to asylum seekers, refugees and migrant women, have been featured in a new film produced by the National Lottery which captures the surprise reactions from a number of Scottish charities when discovering they will receive lottery funding.
The National Lottery's 'Raise a Smile' video shows the moment Saheliya's Sweety Sharma receives the welcome news. Administrator Sweety said:
"I was totally shocked – and delighted – to hear the news."
"I know first-hand the positive impact of Saheliya's work. When I first moved to Scotland I had wonderful support from the charity and it helped me integrate into Scottish culture and life.
"I've now got a part-time job with the organisation and I know how crucial National Lottery funding is to expand our work. It will enable us to reach out and support hundreds more women."
The Big Lottery Fund awarded the grant for £704,649 which will facilitate Saheliya's new 'Open Arms' partnership with Sikh Sanjog, LINKnet and Mentoring, and Edinburgh and Lothians Regional Equality Council. This is a three year project aimed at tackling isolation affecting groups of minority ethnic women in Edinburgh and the Lothians.
Jonathan Tuchner, from The National Lottery, said: "National Lottery players have raised a massive £3 billion to fund projects which make a life-changing difference right across Scotland. The 'Raise a Smile' video is thanking lottery players for making Scotland a happier place to live. Without them none of this would have been possible. We want to make National Lottery players aware of the thousands of fantastic projects across Scotland that would never get off the ground if it weren't for their money."
Raise a Smile can be watched online here. Can you watch it without smiling?