The sale of Christmas trees has had an unexpected bonus for Children's Hospices Across Scotland (CHAS).
Nic Houldsworth from Kirkliston has supported CHAS for three years and last year he raised almost £3,000 from selling trees. When that was matched by The Dragonfly Agency he was able to donate £5,832 to CHAS.
He also gave a beautiful Christmas tree to Rachel House children's hospice in Kinross which is part of the CHAS family.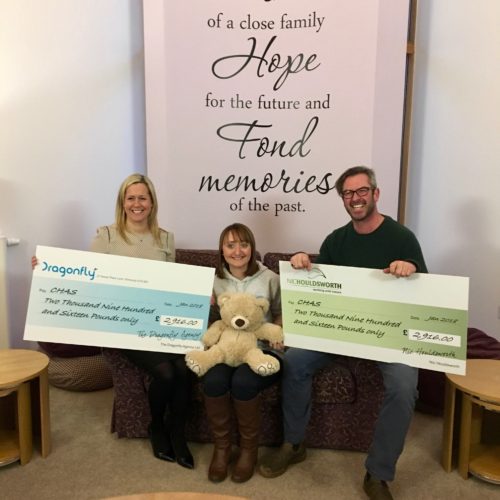 Laura Campbell, Community Fundraiser at CHAS said: "We were delighted to have the support of Nic Houldsworth and The Dragonfly Agency again this year and they have well and truly outdone themselves! We loved welcoming them all to Rachel House so he could meet some of our wonderful families and the dedicated and passionate staff and volunteers who support and care for them. At CHAS, we currently help over 400 families across Scotland facing the reality that their child's life will be short.
"We make sure that no matter how short a family's time together may be, it is filled with happiness and fun. We keep the joy alive by helping families to celebrate the lives of their children while they are together, and to honour their memory when they are gone.
"Three children die of a life-shortening condition every week in Scotland, and at present, we're only reaching one of those families. Our ambition is to reach every single one of them and offer our services. Support like this is so important in helping us continue our work."
Nic Houldsworth said: "I am so happy to support CHAS once again this year with the sale of my Christmas trees. I would like to thank all my customers who helped me raise this incredible amount of money for such a wonderful cause. I am so grateful to my friends at The Dragonfly Agency for matching my donation, meaning we can help CHAS support so many children and their families across Scotland. Being able to meet some families being cared for and supported by Rachel House was a humbling experience and I'm very grateful to see first-hand the vital services that the national children's hospice service offers."
CHAS is Scotland's national children's hospice service and cares for families and their babies, children and young people by offering palliative care, family respite and support via its two hospices, Rachel House and Robin House. It has a CHAS at Home team, who bring its services into families' homes throughout the whole of Scotland, as well as teams working in communities and hospitals across the country.