A spectacular sea of light illuminating the winter night, Torchlight Processions will mark the opening of Edinburgh's New Year celebrations, this year culminating in #ScotWord in Holyrood Park.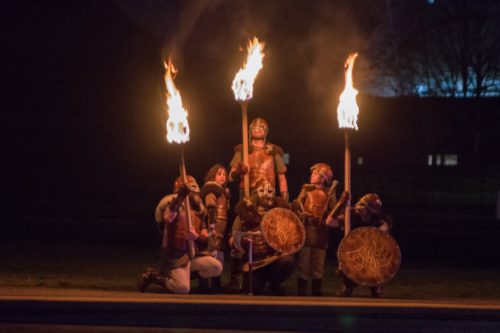 Torchbearers will blaze through the city this evening accompanied by a cast of pipers and drummers with the procession having three starting points (St Giles Street, North Bridge and South Bridge) and making its way down the Royal Mile towards Holyrood Park, passing Scottish Parliament and the Palace of Holyrood House for a breath-taking fireworks finale, #ScotWord.
To herald the start of Scotland's Year of Young People in 2018, the climax of this year's procession will include torches spelling out one word, #ScotWord, chosen by the young people of Scotland answering the question "What makes you most proud to live in Scotland?".
Earlier we met young Jarls, aged from 5 years and up, of the legendary Up Helly Aa Vikings from Shetland, in full costume and with flaming torches who are very proud to take centre stage at Torchlight Procession.