Lothian have it all sorted out for you with regular buses on and around Christmas Day on their key routes.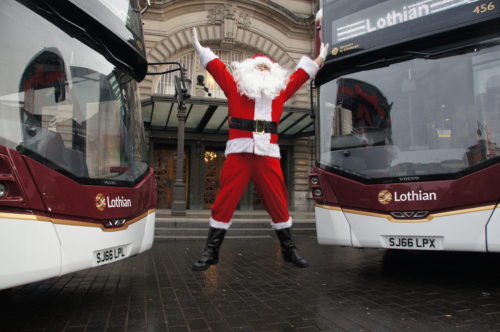 The capital's bus company has issued Christmas and New Year information for customers travelling during the festive season.
This year the company will send out more buses than ever before across the city on key dates, offering smarter connections and more choice for customers throughout the holiday period.
With more shops now open longer on Boxing Day, earlier and later journeys and more frequent buses to popular shopping destinations such as Fort Kinnaird, the Gyle Centre, Straiton Retail Park and Ocean Terminal have been introduced.
Other additional service enhancements introduced this year include an hourly service to Lochend on Christmas Day and an hourly service from Muirhouse to the Royal Infirmary serving Marchmont and Blackford on New Year's Day. Lothian Country will provide an hourly service for residents and visitors to Queensferry on Boxing Day and New Year's Day.
Lothian will also deliver free Hogmanay Night Buses as Official Transport Provider for Edinburgh's Hogmanay 2018 in association with City of Edinburgh Council.
Nigel Serafini Commercial Director of Lothian, said: "We are once again offering our customers a widespread network service provision, with a greater choice of services and increased frequencies.   Christmas and New Year is a particularly busy time in and around the city and our team work hard to ensure we deliver an excellent customer service for the thousands of residents and visitors who rely on us for travel over the festive period".
More information on the Christmas timetable can be found below and at www.lothianbuses.co.uk
Details of services on special days

Christmas Eve, 24 December: Sunday Service

Last buses through the city centre at approx. 2130 hours.  Airlink 100 last departures at normal times.

Christmas Day, 25 December: Special Service

Services 3, 7, 8, 16, 22, 26, 30, 34, 37 & 44 run within the city of Edinburgh. Service 26 & East Coast Buses services 106, 113 & 124 will link East Lothian and the City.  Airlink 100 will run a special service every 30 minutes from 0430 until 2330 hrs.

Boxing Day, 26 December: Special Service

Main bus routes run within the City of Edinburgh and to East Lothian & Midlothian.  East Coast Buses services 106, 113 & 124 will link East Lothian with the City.

27 to 29 December: Saturday Service 

Services 15 & 45 will run a public holiday timetable whilst services 61 & 67 will run a weekday timetable (no 1902 & 2002 departures from Pentlands Science Park).  On 27 December, some very early a.m. journeys will not run.

30 December: Saturday Service

From 2200 hours Airlink 100 runs to/from St. Andrew Square (north side).

Hogmanay, 31 December: Sunday Service

Last buses through city centre at approx. 2130 hours.  Airlink 100 runs to/from St. Andrew Square (north side) until 1800 hrs.  From 1800 hrs, Airlink 100 and Service 43 run to/from Edinburgh Bus Station. Airlink 100 last departures at normal times.

Hogmanay Night Buses: morning of 1 January: 

Special FREE Night Buses running after midnight on New Year's Day morning until approx. 0400 hours brought to you by Lothian – Official Transport Provider for Edinburgh's Hogmanay in association with City of Edinburgh Council.

New Year's Day, 1 January: Special Service

Main bus routes run within the City of Edinburgh and to East Lothian & Midlothian.  East Coast Buses services 106, 113 & 124 will link East Lothian and the City.

2 January: Reduced Sunday Service

Services 18, 38, 40, 42 & 63 and some very early a.m. journeys on other services will not run.  All other services operate a regular Sunday service.

3 January: Regular Weekday Service (school holidays)