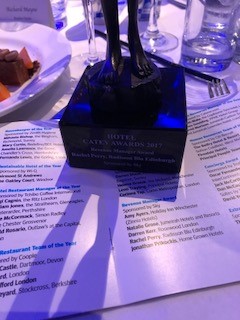 An employee of the four-star, Radisson Blu Edinburgh has been recognised in one of the UK hotel industry's top annual awards.
Rachel Perry, who has been part of the management team at the 238-bedroom hotel for four years, was named Revenue Manager of the Year at the Hotel CATEYS 2017.
She was the only Scotland-based candidate of the five shortlisted in her category and one of a handful from Scotland shortlisted across all 18 award categories.
Perry, who couldn't attend the ceremony due to being on honeymoon in Japan, said: "I can't believe it. I am so pleased as I know how tough it is to win a CATEY. I'm thrilled and also for my team."