Our local bus company has made the shortlist at the UK Bus Awards. These are the most prestigious national bus industry awards and Lothian Buses is up for winning the Top City Operator and Environmental categories.
The awards, which are in their 22nd year, are designed to recognise innovation, excellence and progress across all areas of the UK's bus industry.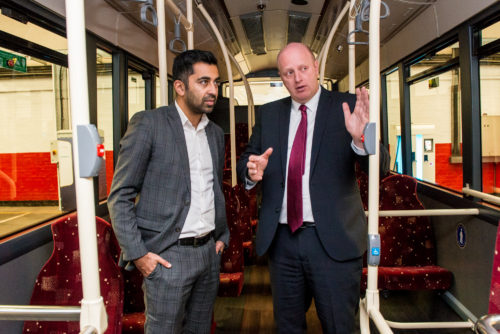 Last year at the same awards ceremony Lothian Buses won two silver awards for the Top City Operator and Sustained Marketing Excellence categories and a bronze award for the Putting Passengers First category.
The winners will be announced at a ceremony to be held on Tuesday 21 November 2017 at Troxy in London.
Lothian employs more than 2000 staff, operates over 700 buses across Edinburgh and the Lothians and carries more than 121 million passengers per year.
Richard Hall, Managing Director, Lothian said:  "To be finalists in the categories of Top City Operator and Environment at this year's UK Bus awards is testament to the hard work and dedication of all our staff from across the business.
"We are continuing to invest in people, technology and new vehicles which allow us to provide an unrivalled service for the hundreds of thousands of customers who travel with us every day."
Mark Yexley, Chairman of the UK Bus Awards, said: "To be a finalist in two categories is a great achievement. Companies must demonstrate outstanding levels of performance, and every member of the team has input in making this happen. It's a great honour to be able to recognise the business as a whole and in turn all the employees. We wish Lothian the very best of luck at the awards ceremony on the 21 November."
Lothian has enjoyed other award wins in recent years including; Operator of the Year at the 2016 Scottish Transport Awards and the Transport Award at the 2016 VIBES awards.
Photo ©Wullie Marr Photography