In what the council describe as a pioneering move there are to be changes to the road layout at McDonald Road to help keep cyclists safe.
By the end of the month there will be around 700 metres of segregated cycle lans on the east and west sides of Leith Walk between Iona Street and Brunswick Street. This is all part of the improvement works currently underway on Leith Walk. The plan is to offer a safe and continuous segregated route for cyclists to encourage active travel. The cycle lanes will pass behind bus stops with marked crossing points for passengers crossing to and from the bus stop.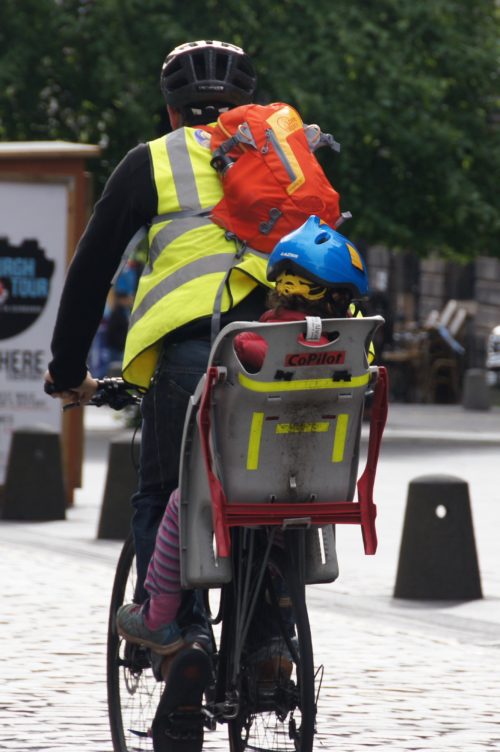 Adopting a scheme which has been used in London and elsewhere in Europe there will also be a two stage right turn feature enabling cyclists to turn right without the need for waiting in the middle of the road.
Cyclists heading north on Leith Walk and who want to turn right into Brunswick Road will follow advance signals at the traffic lights and will then be guided left into McDonald Road. At that point they will be given further a advance signal to cross Leith Walk into Brunswick Road.
The council says that this layout will allow cyclists to traverse any future tram tracks at 90 degrees making that manoeuvre much safer.
This change has the approval of Sustrans. The Council has worked with Sustrans to produce a short animation demonstrating how the two-stage right turn and bus stop by-passes work. This is aimed not just at cyclists who will be using the features but at all road users, including pedestrians and drivers, so that everyone understands what to expect.
Transport Convener Councillor Lesley Macinnes said: "By introducing the very first two-stage right turn junction in Scotland, we are proud to be proving once again that Edinburgh is fully committed to making active travel as attractive and accessible as possible.
"This launch marks the culmination of a lot of hard work and close collaboration between the Leith Programme project team and local residents, businesses and organisations, particularly cycling groups.
"I would urge everyone to take a couple of minutes to watch the handy animated guide showing how to use the two-stage right turn and bus stop by-pass – since they're entirely new features on our roads, it's very important that people are clear on how they'll be used, so they can look out for each other. "
Sustrans Scotland Deputy Director for Built Environment, Daisy Narayanan, said: "We are looking forward to the opening of the two stage right turn on Leith Walk, which is the first of its kind in Scotland.
"This new facility is an excellent example of innovative and collaborative cycling infrastructure in Edinburgh and we have been working with City of Edinburgh Council and Spokes on the design,  implementation and promotion of the turn.
"We believe the turn will improve junction safety and enable a better flow of people on bikes as they travel across the Capital."