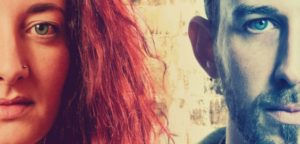 Following their successful season at the King's in 2016, stripped-back Shakespeare company, Merely Theatre, bounce back to Edinburgh with a double-barrelled Bard-fest. They take risks, they take liberties, they take the pithy bits and big them up massive. They Bardly go when no Ham-Dram has gone before.
Artistic Director Scott Ellis promises audiences will understand the plays better than ever before, "Shakespeare writes in a rhythm that creates a sense of momentum. We make every moment as clear and vivid as possible, and ensure there is no dead air interrupting that momentum. By respecting the language, we make the stories as clear and well-focused as possible, so audiences can get swept up in them." In Merely Theatre productions, there is no fourth wall and the audience exists in the world of the play, shifting the audience from passive observer to active participant.
As a disclaimer, The Edinburgh Reporter reads in to this that Toby Belch and buddies may get you well drunk before tossing  you in to a lethal Veronese street brawl with the Montagues and Capulets. Terms & Conditions apply.
ROMEO AND JULIET: Fighting for love in a world defined by hate. Hot-blooded, feuding families become trapped in a spiral of passionate and violent outbursts, until they are forced to confront the many faces of love and loss. Merely Theatre present Shakespeare's most tragic romance in a production that resonates with extremes of emotion. Oh yes? Teenage sex, drugs and violence is like so totally last Renaissance innit?
TWELFTH NIGHT: Yellow is The New Black in Merely Theatre's raucous, joyous, witty and moving rendition of Shakespeare's Twelfth Night. In this comical tale of identical twins, disguises, music and madness, no-one is who they seem, and their deceptions drive one another to new heights of absurdity. Tudor chewed-up Peep Show for cross-dressers? Move along please! 
They have the talent, they have the vision, they have a nerve. They have the iconoclastic temerity to snook a cock at plodding paradigms and slap their thighs in derision at the capricious calumny of convention. Nevertheless, best sit a few rows back mind – a strong suggestion of fluid exchange going on here…
Twelfth Night: Wed 20 (2.30pm) & Thu 21 (7.30pm)
Romeo & Juliet: Wed 20 (7.30pm), Thu 21 (2.30pm) & Fri 22 (7.30pm)

http://www.edtheatres.com/merelytwelfthnight
http://www.edtheatres.com/romeoandjuliet