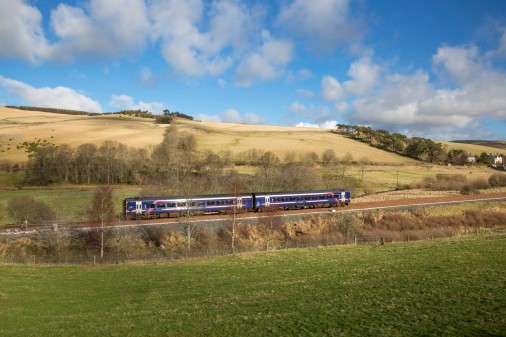 The Borders Railway shows no sign of losing momentum as it continues to capture the world's attention.
VisitScotland's international marketing campaign to promote the rail link has reached almost 35 million people in the last two years, helping to inspire visitors to explore Edinburgh, Midlothian and the Scottish Borders.
Over 2.6million people have travelled on the Borders Railway since it re-opened two years ago. Recently, a unique experience offering passengers, for the first time, the opportunity to board a steam train in West Lothian and Fife to cross the Forth Bridge and onwards to the new Borders Railway proved a phenomenal success with 1680 passengers taking the journey over just four days.
The 31-mile Borders Railway route stretching from Edinburgh Waverley to Tweedbank was officially opened by HM The Queen on 9 September 2015.
Some of the key successes of the Borders Railway include:
More than 261,000 views of three Facebook Live videos of the first steam train experience on 6 August 2017 generating 1395 comments across the three posts.
More than 1.1million views of a two-minute Borders Railway film produced by VisitScotland in partnership with leading US online and lifestyle publisher Matador Network
More than 1.4million online views of Borders Railway films produced by VisitScotland in the last two years
Over 2.6million passengers have travelled on the Borders railway line since it re-opened in September 2015, with more than 65% of visitors that used the line stating that the railway line was a factor in their decision to make their trip.
Almost 35 million potential visitors reached as a result of marketing of the Borders Railway by VisitScotland in 2016-2017.
A 10.6 per cent rise in visitors to Abbotsford House in Melrose, and a 9.1 per cent rise in visitors to Crichton Castle in Pathhead, between 2015 and 2016.*
An 8 per cent rise in tourism employment in the Scottish Borders, and a 4.1 per cent increase in Midlothian.
As part of the Borders Railway Blueprint partnership, VisitScotland seeks to maximize benefits from the new Borders Railway. £367,000 was invested in a unique three-year (2015-2017) national and international marketing campaign to put the new Railway on the map. The funding was provided by Scottish Borders Council and Midlothian Council, with match funding from the Scottish Government.
VisitScotland will continue to work with partners to promote the Borders Railway to national and international markets with digital marketing activity in Canada and Germany planned in the next year