A collection of 16th century Spanish tiles have been found in an Edinburgh basement.
Some of the ceramic tiles match important pieces originally uncovered in a Spanish church in the 19th century.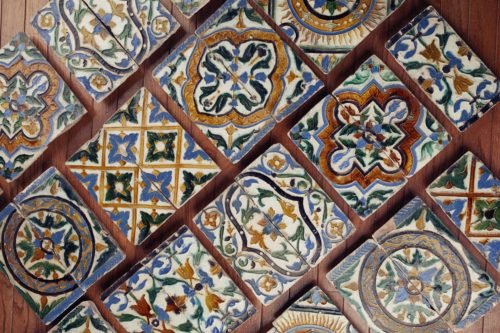 Over 200 pieces were discovered by specialists during a routine valuation of the Edinburgh house and are valued at between £10,000 and £15,000.
They will be sold at a Fine Furniture & Works of Art auction at Lyon & Turnbull on 27 September 2017.
The tiles may have come from the church of Santiago in Carmona which lies in the province of Seville.
In the late 19th century an exciting discovery was made at the church when a bricklayer, repairing the church roof, uncovered a secret ceiling of around 2,000 tiles, disguised behind the existing decoration.
The tiles dated to the first half of the 16th century and displayed various different patterns in glazes so typical of tiles produced in the region during this time.
It appears some of the tiles were sold. In February 1881 the Victoria & Albert Museum acquired 42 pairs of ceiling tiles, recovered from the church and it was claimed that Lord Rothschild also bought some.
In around 1890 a museum in Cologne acquired tiles with comparable decoration and four years later the National Museum of Scotland procured similar items too.
Related examples also appear in catalogues of the Carranza Collection, Seville, and the Hispanic Society of America, New York.
The tiles found in the church were arista tiles whereby moulded raised lines created the patterns displayed, helping the glazes to stay separate.
These types of tiles became the most lucrative of the pieces produced in the region of Seville, being an important export commodity for Spanish potters.
The versatility of tiles also led to their success in Spain, where they were used on floors, walls and ceilings. They were also often placed within churches for ornamental as well as educational purposes, and their decoration took on repeating floral patterns as well as figurative and religious displays.
Their distinctive designs lasted the test of time, and arguably influenced European potters such as Minton and the Derby Tile Company during the late 19th century too.
Theo Burrell said "My colleague found the boxes of tiles in the basement of an Edinburgh house and realised they were something unusual and potentially early.
"It wasn't until we started researching them that we identified what they might be, much to the vendor's amazement.
"This offers a rare opportunity for collectors and buyers alike to acquire a traditional Spanish art form of great age, beauty and history."