The Edinburgh Fringe show, Whales,  is a live performance about a pod of whales stranding in the watery setting of George Square.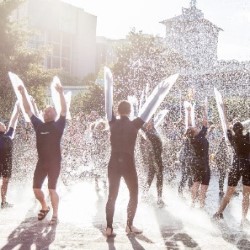 This sweet and "strangely moving" family show needs fin-friendly volunteers as whales, or their saviours, for a morning stint today and Sunday.
Volunteers can chose to take part as a whale, which involves a rehearsal on the morning of the show at 10:30am, followed directly by the performance at 12:30.
Alternatively, festival-goers may like to be a whale rescuer – no rehearsal necessary, just go along to George Square at 12:30 and look out for the whales in the South East corner of the square, just down from George Square Theatre.
Places are available on both days.   Participation in the performance is free of charge. To register as a whale visit bingeculture.co.nz/joinourpod or call 07388 584738
Tim Cornwell