Ensemble SU: The Party
Ensemble SU are five musicians playing traditional Korean string and percussion instruments together with the cello and piano from the West's musical heritage.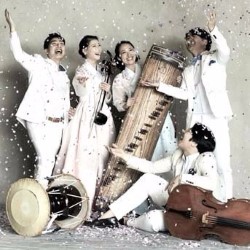 The show provides an intriguing blend of musical styles from traditional Korean melodies to settings of the jazz tune "Take Five" and the party surprise of a classic pop song played in a unique way.
The group's own compositions are probably the highlight as the different instruments are integrated within a coherent whole while giving the musicians a chance to shine with individual solos.
There's some exciting drumming and string sounds ranging from fine and mellow to high and keening.
The show's eclectic style is unlikely to appeal to all but should provide many pleasures for musical explorers.