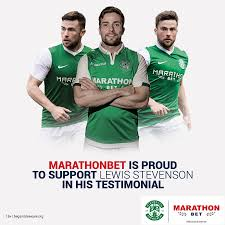 Hibs' long serving defender Lewis Stevenson says yesterday's testimonial match was beyond his expectations as a crowd of over 9,000 turned out to celebrate his career at the Club.
He was also pleased with the manner of the comeback against Sunderland who only last season were in the English top flight.
Stevenson was given a standing ovation by everyone inside the stadium as he exited the field of play in the 85th minute, being replaced by Callum Crane then after the final whistle he  was given his own lap of honour around Easter Road Stadium, which included a rendition of 'Sunshine on Leith'.
He admitted to having to fight back his emotions as he was applauded off the pitch, and then around the four stands, and says it is an experience he will never forget.
The generous Fifer has donated half of the proceeds to two chosen charities, CRY (Cardiac Risks in the Young) and Leith Links.
He will also make a donation to the Bradley Lowrie fund in memory of the young Sunderland fan who sadly passed away last week.
Lewis told Hibernian TV: "I had a fantastic day – it was more than I could have ever dreamed of.
"The game itself was a good game, it didn't feel like a testimonial, it felt pretty heated and both teams gave it our all.
"I'm glad that we never got beat, I'd have hated if we got beat! To come back to 2-2 after being two goals down was good, especially against good quality opposition."
"The standing ovation was amazing and something I'll never forget. I never know how I'll react in those kinds of situations – you can't prepare yourself. I had to hold back the emotions a bit", said Lewis.
He continued: "It was an amazing day with an amazing turnout. It was better than I could have imagined, so thanks to everybody who came, and to those who couldn't make it, thanks so much for your support over the years.
"It was nice to have Sunshine on Leith sung for me, but I wasn't sure if I was to join in! I was just trying to soak everything in, and I'll never forget that."
Hibs have one more pre-season game as the side prepare to travel down to Shielfield Park to face Berwick Rangers, before the side begin the Betfred Cup campaign at home to Montrose.
He added:  "We feel good, training has been hard, but we are getting the benefits of that and we're ready to go.
"There's a game tomorrow night against Berwick Rangers, so we'll take part in that, but as I said we're ready to go. As we showed against Sunderland we can compete with the best."