Would you like to be in a crime novel? Well Scottish crime writer Alex Gray is offering one lucky reader the chance to appear in her next book.
The author of the DCI Lorimer series, is donating the unique prize to sight loss charity Royal Blind as part of a new fundraising event, Afternoon Tea with Scotland's Crime Writers.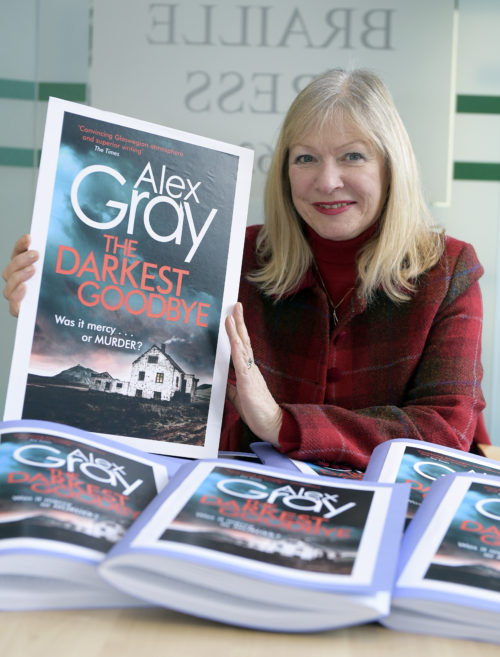 Whoever is the highest bidder will have a character named after them in her next thriller, Only the Dead Can Tell. The book is due for release next year.
Royal Blind is hosting the luxury event at the 5-star Prestonfield House in Edinburgh on 1 October 2017.
The fundraiser will see Ms Gray and fellow author Christopher Brookmyre lead a discussion on the process of creating a character for fiction.
Guests will then be treated to a scrumptious afternoon tea with fizz, followed by an auction and raffle. VIP tickets are available for guests who wish to dine with the authors.
Alex commented: "I have always supported charities for the blind as I value my eyesight greatly and would hate to be unable to read a book or see the beauties of our world. I once sang in a big choir where one of my fellow choristers sang using Braille music! I so admire that sort of indefatigable spirit.
"I do hope that the support for the charity raises lots of money at the event."
Proceeds from the afternoon tea will help Royal Blind to provide support, education and care for blind and partially sighted children and adults across Scotland.
Davina Shiell, Marketing and Fundraising Manager for Royal Blind, said: "We are very grateful to Alex Gray for generously offering this fantastic opportunity as a prize for our auction. We are very much looking forward to the afternoon tea, all proceeds of which will go towards supporting visually impaired children and adults across Scotland."
There will be many other prizes on the day including books signed by Nigella Lawson and Great British Bake Off's Mel and Sue.
Tickets are available to purchase online at www.royalblind.org/events or by calling the fundraising team on 0131 229 1456.
PIC © Sandy Young 07970 268944 | www.scottishphotographer.com |sandyyoungphotography.wordpress.com |sj.young@virgin.net
t 07970 268 944