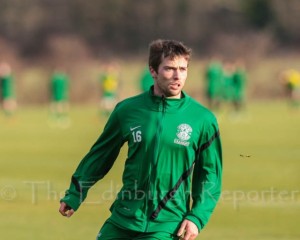 The Lewis Stevenson Testimonial committee is offering companies or individuals the chance to sponsor a jersey for the game against Sunderland next month.
Sponsors can own a matchworn shirt from testimonial match and their name or company name will feature on the front of one players shirt (underneath match details) along with a credit in the Match Programme.
Each strip will be framed and presented by Lewis to the sponsor at a Private Dinner to be held in a City Centre Venue at a date to be agreed in September 2017. Sponsors will also receive an A3 Limited Edition print of Lewis which he will happily sign with a personal message
Each sponsor will be able to bring a guest to the dinner which will include a Gin or Wine Tasting pre dinner. Other Hibernian players will be present and numbers will be restricted to 30
Sponsors will also receive 2 hospitality tickets for the match and 2 tickets for the after match party at a city centre venue.
(Additional Hospitality Tickets are available at a cost of £60 each)
Cost per sponsor – £ 1000
For further details and to book please contact Graeme Cadger g.cadger@btinternet.com
Early booking is advised as there are only eleven packages available.
Other Hospitality Packages will be announced within next few days
Photo by John Preece