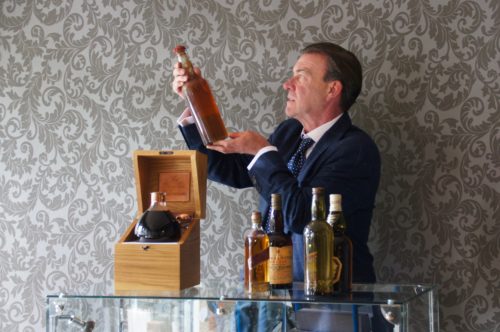 This Wednesday at Bonhams on Queen Street they will be selling nearly 200 lots of whisky in their showroom, or indeed by international live bidding which is offered at all their sales.
They expect bids to come from far and wide however, and that there will be special interest in the two bottles which were on board the SS Politician which perished in the Outer Hebrides. The Gilbeys bottle is likely to fetch around £6-8,000 and the Peter Dawsons is likely to achieve a sale price of £4-6,000.
Martin Green Whisky Specialist at Bonhams told us the story behind them. He said : "We have these two which came from the SS Politician. They were salvaged in 1987 and offered for sale at auction the very same year in a sale that I handled. They have come back for sale although not from the original buyer, but from someone who bought them from the original buyer in 2013.
"When it left Liverpool in 1941 it was carrying 28,000 cases. That's roughly speaking about 330,000 bottles. It's reckoned that the islanders looted and pillaged roughly 25,000 bottles. Subsequently in 1942 Customs and Excise were getting very concerned that people were taking bottles and they weren't paying duty which was why it's such a funny story.
"They then decided to blast number 5 Hold with 16 sticks of dynamite. So how many are actually left is a question. These two bottles are very rare because there won't have been very many left at all.
"These bottles were both declared to Her Majesty's Receiver of Wreck which is the correct procedure when something is taken from the sea from a documented ship. So they have been declared , duty was paid at the time when they were salvaged. We know that the provenance is impeccable.
"I think it is quite likely they will stay in Scotland, but that remains to be seen on Wednesday."
Bonhams Whisky Sale June 2017 from Phyllis Stephen on Vimeo.