This year the Clydesdale horse is the hero image for the 2017 Royal Highland Show, and her name is Jennifer.
Bred by Ronnie Black a Clydesdale breeder from Newton of Collessie Farm, Fife Jennifer is the fourth generation of Best of Breed at the show.
17.2 hands tall (that is really big to those of you who don't know!) the 3 year-old mare is now used on all the advertising relating to the show including the Edinburgh Trams wraparound.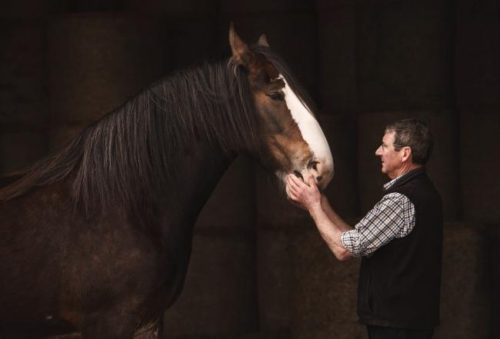 A tram wrapped in eye-catching artwork to help promote the Royal Highland Show is making its way around Edinburgh'. You can share your snaps of the tram on social media by using #JoinTheTrampede 
The tram is now being promoted as one of the ways to get to the show without taking a car.
Lea Harrison, Managing Director at Edinburgh Trams said: "It's been a great pleasure working with the Royal Highland Show on such a unique launch event. Our new partnership means we can now bring our fast, frequent and reliable service to a whole new audience. Over the weekend we'll be offering trams from every 7 minutes with journey times of less than 30 minutes between Ingliston Park & Ride and the city centre. With tickets priced at £3.20 return, trams are the obvious choice."
Click here for further travel information including the dedicated bus service provided by Lothian Buses.
Commenting on the campaign, Royal Highland Show Manager, David Jackson said: "Jennifer is simply a stunning horse and a fitting star to feature in the advertising campaign to promote Scotland's premier agricultural show. The Show brings together the country's best from food to shopping to livestock. Initial feedback on the creative is that the iconic native breed of a Clydesdale will create the desired impact and encourage the public to come and experience the best Scotland has to offer."
Breeder Ronnie Black is naturally proud that his prodigy has been chosen as the show pin up for the 177th event. Ronnie said: "Jennifer is from a long line of Royal Highland Show champions and my family and I are delighted that she is featuring in the advertising campaign. While Jennifer will not be at the Show as she will hopefully be caring for her newborn foal, other members of her family will be flying the flag for the Collessie champion.
"The Clydesdale is a breed of draught horse derived from the farm horses of Clydesdale which is in existence thanks to a committed number of breeders who invest time and passion into protecting the future of this beautiful native breed. There is no better showcase to see this magnificent animal than at the Royal Highland Show."
Photo shows Ronnie Black from Newton of Collessie Farm, Fife with Jennifer