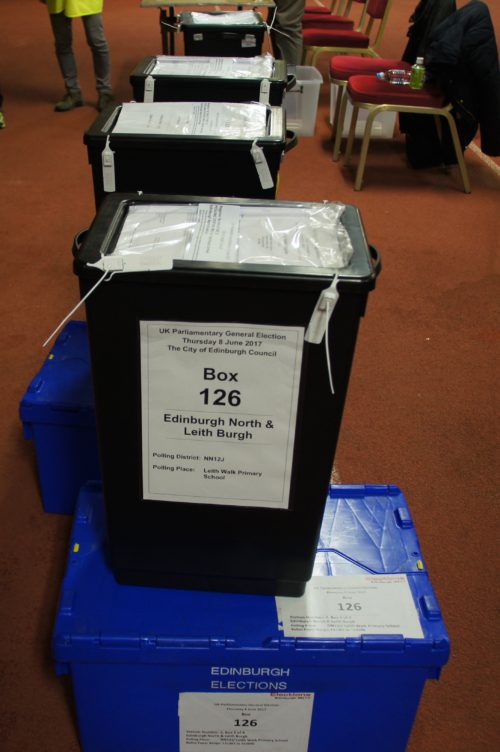 At 10.30pm, thirty minutes after the polls closed, vans began arriving at Meadowbank Sports Centre in Edinburgh.  Every vote cast by Edinburgh residents will be counted here.
The Council has recruited 745 polling staff (many of them council staff already), and Meadowbank is full of reporters, photographers and election agents all waiting in anticipation as the first of the ballots is counted. Observers are already at their stations trying to spot votes for their candidates.
The Council Election in May 2017 had a turnout of 50% with 187,157 votes cast.    There was an 84% turnout at the Scottish Independence Referendum and 73% at the EU referendum.
The air is full of energy. People are running around preparing themselves for a long night ahead of counting.
But the exit polls have brought about another air of confusion. Conservatives coming in at 314, short of a majorty. Labour at 266 – up 30 seats; Liberal Democrats on 14, SNP taking only 34, a decrease for the dominating Scottish party. Could Theresa May's early election call backfire on her? Or will we see a repeat of the misleading exit polls of 2015?
Newcastle has already announced its count: Candidate Chi Onwurah won a safe Labour seat, up 10%, but she was matched as the Conservatives climb %10 too.  Houghton and Sunderland South followed a few minutes later, announcing another Labour victory. So that's two secure Labour seats so far.
It is estimated that Edinburgh's five constituencies will be announced early tomorrow morning.
Who will dominate all of Scotland's 59 constituencies? Follow us on TER Live as we bring you up rolling info on tonight's momentous election.