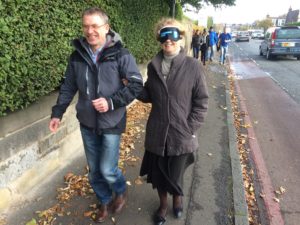 Guide Dogs Scotland is inviting Edinburgh residents to learn skills to safely guide those with sight loss in their community.
The charity, which supports blind and partially sighted people, is hosting a free training course in Edinburgh on 23 June.
My Guide Ambassador Mick Seed said, "Knowing how to safely guide someone with sight loss is a great skill for anyone to have.
"It means that if you see someone with a visual impairment who looks a bit lost you can confidently give them a hand. It is also very useful for people who might come into contact with blind or partially sighted people in their job.
"The course gives an introduction to the techniques used for safely guiding people who are blind or partially sighted. The group will pair up and guide each other while one wears a blindfold, which is a very thought-provoking experience.
"Attendees will leave the course with a clearer understanding of the emotional consequences of sight loss and some of the everyday challenges faced by people with a visual impairment, as well as new skills to enhance their CV.
"After further training, those interested can also become a My Guide volunteer, where they will be matched with a person with sight loss to help them get out and about on a weekly basis."
The course takes place at the Guide Dogs Edinburgh office at 24 St. John's Road, Edinburgh, on 23 June from 10am-1pm. To learn more or to book a place, please call the Edinburgh team on 0345 143 0203 or email edinburgh@guidedogs.org.uk.