The Royal Lyceum has welcomed 70,000 bees on its rooftop, and hopes to use the honey they produce in its food and cocktails.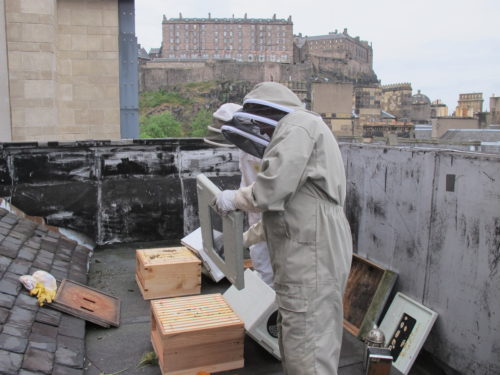 This is all part of the theatre's initiative to become more 'green' in its outlook. Another important part of this programme will involved replacement of the aged boiler with a more efficient one, all designed to reduce the theatre's carbon footprint.
With the funds which are expected to be released by the green initiatives  the theatre will extend its artistic programming and outreach work in the community and with young people.
Ben Twist, Director of Creative Carbon Scotland, said: "We are thrilled that The Lyceum, a leading member of the Green Arts Initiative, is taking this wonderful step. This is exactly the kind of inventive and engaging project that we have learned to expect from Scotland's cultural organisations. Environmental sustainability projects often seem difficult to pay for, and The Lyceum's creative thinking shows how it can be done. I believe that The Lyceum will soon be just the first of many arts organisations in the country to fundraise specifically to improve their environmental sustainability."
Looking after the theatre's beloved bees is Scottish-Honey's Brian Pool, a third-generation professional beekeeper with 40 years of experience.
Speaking of The Lyceum's new residents, Brian said: "The Lyceum's roof is now home to 70,000 bees who have settled in very nicely – you wouldn't even know they were there. With access to Princes Street Gardens and the Meadows to collect nectar and pollen, we're looking forward to collecting some delicious Lyceum Honey.
The Lyceum is the first theatre I've worked with and joins other Edinburgh institutions like The Balmoral, St Andrew's House, and Royal Botanic Gardens to host my beehives."
Edinburgh restaurant Dine has one already earmarked and you can get involved by sponsoring a hive!
Individual bees can be adopted for £1, and Dine is the first to sponsor a hive for £500. As thanks, The Lyceum hopes to provide honey harvested from the roof, for use in the restaurant.
Dine's Sarah Howden said: "We're delighted to partner up with The Lyceum and support one of their many green initiatives by sponsoring one of their rooftop bee hives. Local provenance is also incredibly important to Dine and we always source our ingredients fresh, and with as little food miles as possible. With more than 70,000 resident bees just around the corner, with plenty of tree pollen to forage in Princes Street Gardens and the surrounding area, you don't get much fresher and local than that, and our team of chefs plan to introduce The Lyceum's honey into our food menus and in our seasonal cocktails."