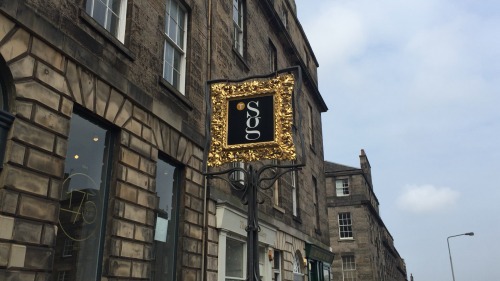 To celebrate The Scottish Gallery's landmark anniversary over 100 of Scotland's most celebrated artists have contributed specially created artworks and the exhibition opens today.
We spoke to Christina Jansen the Managing Director of the Scottish Gallery about the exhibition.
175th birthday exhibition @scottishgallery opening tomorrow. We spoke to Christina Jansen about it pic.twitter.com/f66b66EAaz

— Edinburgh Reporter (@EdinReporter) May 2, 2017
The result is an explosion of small works of art featuring fine art painting, prints, ceramics, photography and a selection of unique commemorative pins.
Together these comprise a unique exhibition A BIRTHDAY CELEBRATION | SMALL WORKS OF ART

They sit alongside a full scale show by arguably Scotland's greatest landscape artist Duncan Shanks whose vivid use of colour paints a picture of Scotland's landscapes in a way they have never been seen before
Duncan Shanks – Winter Journey is joined by Portrait of a Gallery a survey exhibition of paintings from some of Scotland's most important artists.
Finally these exhibitions are complemented by an outdoor installation The Sound of Iona, by sculptor Lucy Gray. Her pieces include giant oyster shells and gold gilded mussels evoking the spirit of Iona and Mull.
Managing Director Christina Jansen said: "Curating a show to celebrate such a milestone is no easy task. As the first ever public gallery in Scotland, The Scottish Gallery's history is in many ways the history of art in Scotland.
"To recognise this whilst also celebrating our current artists we knew no one exhibition could capture this so we're delighted to mount three for our birthday month.
"It's a privilege to host Duncan Shanks' latest show and also to give voice to some of our favourite artists with a unique 175mm x 175mm canvas brief.
"How artists including Alison Watt, Jock McFadyen and Kate Downie have responded has us excited to see the public reaction to these small but perfectly formed works.
"Portrait of Gallery will be the third exhibition and for newcomers as well as regular visitors, a snapshot of the then and now of The Scottish Gallery will be an opportunity to see some of the finest works created in and for Scotland.
"It's a privilege too to be able to host sculptor Lucy Gray's latest show The Sound of Iona comprising pieces created speciffically for our Gallery garden."
Full details and images of the artworks here