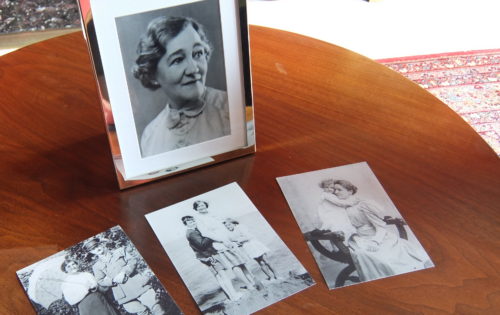 Egnliston Crescent, hidden in the leafy green streets of Edinburgh's West End, is a short walk from Haymarket train station; a place where thousands of travellers will enter into the city. Edinburgh attracts tourists in the millions, some of whom specifically arrive to visit the worlds first UNESCO City of Literature.
Great minds like Burns, Conan-Doyle, Fergusson, Welsh and Banks, are all well commemorated here. But one thing is the same with these writers: They are all male.
Many claim there are "more statues of dogs in Edinburgh than there are to notable women from the city." And maybe they're right. Therefore, Rebecca Raeburn and her team from the City of Literature Trust have began the unveiling of plaques around Edinburgh to finally give recognition to amazing and influential female writers.
We've all heard of R.L. Stevenson, but Dorothy Emily Stevenson was commemorated today. Robert Louis was her father's cousin, and the literary talent and imagination of the family clearly continued with her.
Her childhood home at no.14 Eglinton Crescent was where  she would write prolifically; all against the wishes of her family. D.E. Stevenson would have become a great seamstress had she listened to her father's tough house rules. But quietly in the attic of number 14 she began writing her novels in long hand.
In her lifetime she published 40 books, each one a mixture of romance, drama, satire, and science fiction. When her granddaughter, Penny Kent, discovered five more books in their attic in Hartfordshire, then even posthumously, D.E continued being published. Five hand-written manuscripts were discovered by her granddaughter who arrived at her Granny's old house to unveil the plaque this morning.
"She would have loved to see her name on the house she grew up in," explained Penny, "but Granny was always very quiet, she liked her words. When we visited her at her home she would have the decor still much like the old Victorian days, it was dark with one lump of coal on the fire. But her warm personality always shone through. She would sit on the couch in continue to write her novels in long hand, really living inside of her books."
D.E Stevenson always claimed, much as her great-uncle Robert, that her books would be like lighthouses for her readers, illuminating new worlds and characters in a world often torn apart by war. Born in 1892, two years before R.L Stevenson's death, she lived to 81, witnessing two major world wars and the conflicts that ensued. Her husband, a military man, gave her a great insight into that world, inspiring the works of Mrs Tim of the Regiment (1932).
Her other novels included Miss Buncle's Book, which has been re-imagined as a stage-play.
"There is talk of a movie coming out based on the book, but the stage play would have been fabulous to see, especially in Edinburgh where Granny once lived" Penny continued, joined by her sister Wendy Simpson, curator of the Moffat Museum, where D.E Stevenson spent her last days.
"My main memories of Granny was that she loved Scrabble. She was a keen golfer as well, and very good at archery. She stopped very abruptly though, maybe because of the war. It transformed her life and her writing however, and we still have some hand-written letters between her ad her fans across the world, especially in America," said Wendy.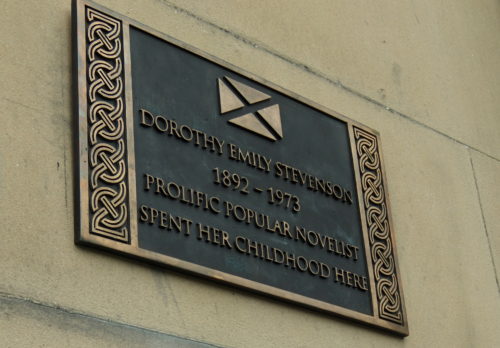 Descendants of the great Stevenson family,  Penny and Wendy were elated to see their grandmother finally receive some well deserved acknowledgement. The house itself is now a B&B, owned by Aileen Reeves, the proud occupier of the gorgeous and historical number 14 Eglinton Crescent.